The UK has long been known to have some of the most exquisite properties and some of the highest property prices in the world. It should come as no surprise that the English capital – London, is home to the most expensive residential properties on the British Isles. Here are some of the million pound pads tucked away in London's leafy streets.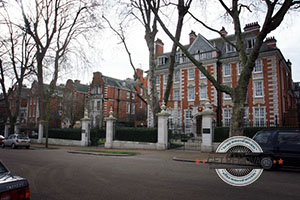 If you have twenty million pounds ready to spend on a home, then you need Billionaire's Row also known as Kensington Palace Gardens in N8 post code. The area houses some the most expensive residences in the world, as well as the most expensive homes in the UK. The address can be described as extremely exquisite, where even many high rollers can only dream of living. Imagine how much removal services would cost when moving into one such home – nothing really, compared to the house price…
If you were willing to spend fourteen million pounds on your home, then consider The Boltons in SW10 post code of the English capital. The street boasts the second highest property prices in the UK. It is estimated that the average price of a square foot of property in The Boltons is nearly twelve hundred pounds. Some of the upsides of living in The Boltons include having Madonna as your next door neighbour.
In case you are willing to fork out about eleven million pounds on a house in London, check Frognal Way in North West London (NW3). The housing stock in the area dates back to a time when moving services were somewhat unavailable – the Victorian Era. The beautiful period homes in Frognal Way are known for their exceptionally grand architecture – characteristic after the eighteen seventies.
In case gated community living is more your thing, then get out your cheque book and jot this down – eight million pounds for a home on Compton Avenue, Highgate, N6. This is a private residents only road, with armed security restricting unauthorised access to residents at all times. Properties on Compton Ave, give residents access to existential amenities like Highgate Golf Course.
When the cost of relocation services is not a factor, one can consider purchasing a place Park Place Villas, W2 for about seven odd million pounds. The area is characterised by the grandeur of Grade II listed stucco properties with lavishly large gardens and plenty of parking for Rolls and Bentleys. Overall, Park Place Villas has some of the biggest residences in the city, with an average square footage of…who knows, they so big!
When looking for a more contemporary mansion, again in the vicinity of seven or so million pounds, buyers should check out Courtenay Avenue in N6. This northwest London locality is also a gated community featuring stunning examples of modern mansions, ranging from traditional red brick-white pillar types, to clean cut minimalistic residences.
If looking for something more basic, like an apartment, for the "mere" sum of six million pounds, then consider Manresa Road in the heart of Chelsea (SW3). Although six or seven million pounds can seem like a bit of a steep price for a flat, in Henry Moore Court (the development on Manresa Rd) buyers get exceptionally finished properties with plenty of outside space.