Get Removals London should be the first removal company in London which comes to your mind when you are in need of professional rubbish removal services in the Greater London area. As a leading rubbish removal company, we pride ourselves on our ability to handle all types of waste, from household to commercial waste. Trust our expertise and experience in this sector and also take advantage of the lowest prices in the UK capital. Our waste clearance services are designed to be cost-effective and efficient, ensuring that every bit of unwanted waste is properly disposed of. You don't need to overpay just to have your garbage removed. Yes, it is a service which requires time and, skill and equipment but our top priority is customer satisfaction. This is evident in our commitment to eco-friendly waste removal practices. This is why we have packages and bundles for you and the more services you opt to hire us for, the more money you will save.
A variety of junk removal services is the key to success
Our workers specialize in a wide variety of garbage disposal assistances and we can remove your home waste along with your office rubbish equally well. Whether it's a small household waste removal task or a large-scale waste collection, our team is ready to tackle the job. Larger commercial sites and facilities also do not give us troubles as we have completed many large garbage removal projects of that scale as well. Our rubbish clearance services are comprehensive, including everything from garden waste to bulky waste removal. If you have plenty of garbage in your garden, call us. Our garden waste removal services will help reclaim your valuable space, leaving your outdoor areas clean and tidy. Your landscaping rubbish will be piled up on one place and will then be loaded onto our vehicles.
Rubbish Removals after Renovation or Builders
This can also be construction waste generated after your home renovation you just had. Our building waste removal services are perfect for dealing with such scenarios, efficiently removing all the junk from your renovation projects. No problem, we are able to transport even big piles of dirt or old objects you might have stored in your garage. Our rubbish removal team is equipped with the necessary equipment to handle even the most challenging waste types. So having a full house clearance in London with us is just a pleasant and useful experience.
Special types of junk will also be professionally disposed of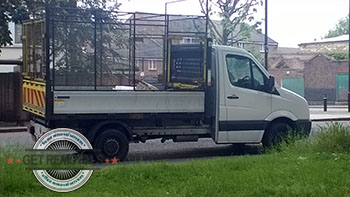 Give us a go if you run a warehouse or a factory and are in need of some specialised waste collection. The commercial waste collection services that we offer are tailored to meet the unique requirements of such settings. We have the means to deal with big piles of rubbish and leftovers by machinery and tools. We are also fully licensed to enter such facilities, collect waste and transport it. When it comes to hazardous materials, our team is trained to handle them with the utmost care and in compliance with all regulations.
How we dispose the Rubbish once Loaded in the Collection Vehicle
Our vehicles are supplied with top class containers and straps. After we collect and remove rubbish, it is sealed inside and we will safely take it to the nearby landfill. The waste management approach that we apply is comprehensive, ensuring that as much waste as possible is recycled or disposed of in an environmentally friendly manner. Recycling is also a viable option and if a certain type of junk qualifies as recyclable, it will be taken to such a facility by us at our expense. We offer same day waste clearance for those urgent situations where you need rubbish removed on the very same day. Junk removal in London itself isn't enough to keep the environment clean. How we execute these garbage disposal services matters too. The eco friendly rubbish removal methods that we have mastered include the use of non-toxic detergents and steam-based machinery. Get Removals London ensures a "green" service to all of its domestic or commercial customers. We never use toxic detergents and our steam based machinery does the trick just fine.
Home or Office Rubbish Removal available in London
For office clearance, our team is highly reliable, ensuring that your workspace is free of waste and clutter without any disruption to your daily operations. We will take care of the whole process:
Preparation and gathering
Loading up and waste collection
Transportation
Disposal
Complete assistance with our collect and junk disposal projects in London
Do not hesitate to contact us if you are having garbage storage issues, as we provide trustworthy and fairly prices skip rentals. The skip hire services of our company are perfect for those who need regular scheduled pick-up of waste, and our range of skips can accommodate all kinds of waste, from domestic to commercial. The local authorities have certified our bins, as they correspond in full to the local laws and regulations. They vary in size (extra small to extra-large) and can be used for the storage of all types of waste with the exception of hazardous waste. Feel free to combine our skip rentals with our rubbish removals London and benefit from an amazing price reduction.
We also offer sofa removal, a service specifically designed for disposing of large, bulky items that take up too much space.
It is hardly a surprise that London citizens might need high quality London rubbish removal services. The UK capitol is one of the busiest metropolises in the word and one of the largest cities in Europe. In areas like North London and West London, our service is especially popular due to the high density of residential and commercial buildings. The hectic lifestyle that is typical for Londoners leaves little time to deal with such tasks. As a global tourism and financial centre and an imporatnt transport hub, the everyday life of London often eats up a lot of the time of its people which makes our service all the more valuable.
The same day service provided is particularly valuable for those who need immediate rubbish collection service.
Get a Rubbish Removal Quote for Free
Whether you're a domestic or commercial customer, our rubbish removal service is just a call or collection online away. Get a no obligation quote from us and experience the best in rubbish clearance services. As part of our commitment to preserving the environment, we work closely with organizations like the Environment Agency to ensure that our domestic waste removal practices are up to the highest standards.
In addition to our comprehensive waste removal and rubbish collection services, we also specialize in loft clearance, efficiently dealing with how much waste accumulates in these often overlooked spaces. Our skip hire options are straightforward with no hidden charges, allowing you to manage large volumes of unwanted items with ease. As one of the most versatile waste collection in London, we ensure that all aspects of waste disposal are covered.
How to Get a Final Price for your Collect and Dispose Task
You can conveniently get a free quote, book online, even a same day service, assuring a quick and efficient response. All the staff members and waste removal vehicles are fully insured, giving you peace of mind that all rubbish and waste clearance tasks are performed safely and professionally.