Generally speaking, property removals are no rocket surgery but the average person is not always ready to face and overcome all the challenges and issues (both obvious and hidden) presented by the removal project. Sometimes it's the endless small things that drive people up the wall, other times it's the pressure and stress that comes with moving places. In all instances, one would benefit greatly from using our professional removal services in Kingston, KT1, KT2 suitable for a multitude of occasions and purposes.
Who Are We?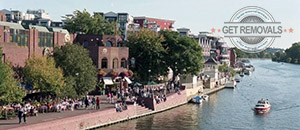 Our name is Get Removals and we deal with all types of residential and commercial property relocations. We are the experts of efficient and affordable domestic removals in Kingston, KT3, KT4, business and office removals, furniture removals, piano removals and what not. Our range of moving services also covers the packing of items in our care for, extra protection during handling and transit. In case customers wish to do their own packing, we will supply the necessary packing materials. If waste collection is required as part of the removal, our rubbish removals are ideal for the job.
Top removal services anywhere in Kingston
Safe handling and no-damage transportation of your belongings are guaranteed by our professional movers and experienced drivers all of whom have the required practical skills and service expertise.
We are a professional and well established moving company which knows a thing or two about property removals. Using our services gives customers a number of important advantages and benefits, such as:
Free quotes and customised pricing;
Midweek discounts on all removals;
Coordination of all removals through a dedicated call centre;
Helpful and reliable round the clock customer support;
Extra wide coverage on all collections and deliveries;
Adequate technical advice during all stages of the relocation;
We maintain a large number of specially equipped cargo vehicles of different tech specs. This allows for swift and efficient transportation of any item to any destination countrywide. Our removal vans are clean, equipped for heavy lifting, have working satellite navigation and come stocked with enough safety blankets. The company is licensed and has full liability insurance.
Leading Kingston upon Thames home removal experts
If you entrust your home relocation in Kingston upon Thames to us, you will be doing the right thing. We will pack, load and move your furniture, clothes, appliances and personal items with precision and care, using tested methods to ensure their safety. Home removals in Kingston, just like everywhere else, are usually considered to be troublesome and filled with hassle. Having our trained and well equipped packers and movers by your side will guarantee that is not going to be the case with your project. All you have to do is give us a call now.
Bypassing tedious and time consuming removal chores through using our end to end solutions for removals in Kingston, KT5, KT6 means you got more free time and energy to be out and about. Kingston upon Thames, or Kingston for short is a major metropolitan centre, and a suburb of long standing history, culture and tradition. Kingston was the original site where Saxon kings were crowned – the actual site is marked by a monument of sorts, called Coronation Stone. In modern times, the main industry in Kingston revolved around designing and manufacturing of fighter aircraft. The manufacturing plants and facilities in the area have been used by a number of leading UK military aviation companies during the twentieth century. Some of the most legendary and battle proven aircraft the UK has ever had have been created right here in Kingston, KT9. Many of these iconic machines are on display at the Brooklands Museum of Aviation in Weybridge. Some of the places of interest in Kingston include The Bentall Shopping Centre, the Grade II listed All Saints Church, and the Kingston Bridge.
Over the years Kingston upon Thames has proven to be among the finest areas to live in London. Among other things, Kingston has become a university town in the past couple of decades thanks to the growth of Kingston Polytechnic into Kingston University, which happened in 1992.