Being a professional removal company with many years of industry experience, Get Removals knows that storage is an integral part of any well organised, professional grade removal service.
Because of this we offer our private and business customers access to affordable, reliable and fully comprehensive storage service, either as standalone or as part of the default removal solution chosen by them.
Our storage in London is inexpensive and efficient solution that gives customers freedom of choice and good cost efficiency. As mentioned above, the storage options we offer are open to both domestic and commercial customers.
Since we offer an end to end storage service, we will be able to come, collect and transport your belongings into storage, or from storage back to an address of your choice, without making you wait too long, or costing you too much.
If necessary we can also handle the packing, labelling and securing of your items. Our removal teams, which also handle storage service requests, are quite proficient and highly skilled in every aspect of their job. In other words, your items will be packed, labelled, secured and loaded on board for transit, in a safe, well-organised and attentive fashion. There will be no risk of damage or mistreatment of your belongings during handling or transportation as everything on board can be listed, colour coded etc.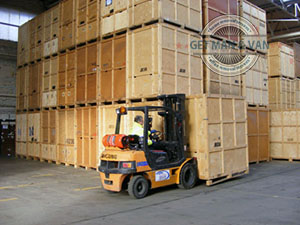 It is important for us to give you freedom of choice and provide you with flexible service options. In light of this we also offer shared storage options. Shared storage is ideal for when you only have a small volume of items, or when you only need storage space for a couple of days. We offset the cost of hiring out one storage unit to one customer by sharing storage space between a number of customers. There will be no risk of damage or mix-ups as each customer's items are clearly separated, and labelled accordingly.
The storage facility we operate is situated in a key location of the city, therefore allowing for quick and efficient removal of items to and from storage. We have more than sufficient storage space at our disposal. Customers can choose between storage units ranging from lockers to five hundred cubic feet storage containers that can fit almost anything.
Capacity of our Storage in London
We have more than enough storage capacity, meaning space is available for hire by customers at any time. We don't have any waiting periods and will be able to accommodate all customer service requests right there and then.
The storage facility we maintain is fully secured, under twenty four hour video surveillance, and restricted public access. Moving your items to or from storage independently, or as part of your default removal service will be done in a suitable time that doesn't get in your way.
Either as standalone or as part of your default removal service, our storage options will give you the necessary cost efficiency and reliability. We don't have minimum contract period for our storage services. Customers can expect adequate pricing without any hidden fees or unmentioned charges.