With Get Removals your domestic removal will be made a breeze! We will handle the entire relocation from start to end so you have fewer things to worry about and more time to deal with the other more important aspects of moving house.
Besides domestic moves, our London removal company also offers comprehensive office removals, ensuring your business relocation is handled with the same care and efficiency.
Efficient and Affordable London House Removals
Our house removals in London are the sensible, efficient and affordable way to relocate your household without spending a small fortune or having your items lost or damaged along the way. As a leading London removals service, we also offer tenancy cleaning services to ensure your old home is left in pristine condition.
We know that moving houses is about relocating high value and irreplaceable items which must be protected from damage during handling and transit at all cost. In light of this, residential customers can take advantage of our specialised packing service. Good packing and wrapping will keep your valuable safe during the removal – a small price to pay for extra peace of mind. Packing will be done using industry grade packing materials and supplies.
Our full packing service includes the use of bubble wrap and other high-quality materials to ensure the safety of your personal belongings.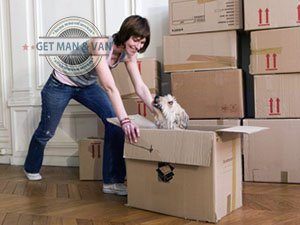 In order to ensure safe handling, efficiency and timely completion of your house move, we work with specially trained domestic movers who know all there is to know about moving residential properties. They will go about their work in a well-organised, systematic manner and work their way through each stage of the removal with professional pace, precision and efficiency. Each removal team is led by a personal move manager who oversees the whole moving process, ensuring a stress-free move for you.
Benefits of using our London Domestic removal service
Our domestic removals services are the quickest, safest and most efficient way to relocate your household contents from A to B. Your belongings will be transported in clean, well maintained vehicles, which are specially equipped for the job. Behind the wheel, we have our experienced cargo drivers who have the necessary skills and expertise to do the job right. Our removal vans are:
GPS navigated and tracked in real time;

Cleaned thoroughly after each removal;

Fitted with safety and heavy lifting equipment;
To further enhance our services, we offer storage facilities in key areas like North London, South London, and West London, providing you with flexible storage services options during your move.
Cost wise, our home removals are the affordable and sensible solution to your situation. We will not cost you silly money – quite the opposite, we stick to affordable professional removal services that meet our customers' budget requirements in full. You will be provided with:
An individually prepared service quote corresponding to the specs of your inquiry;
Customised pricing that covers your budget requirements;
Our Domestic Removals Quotes
Our house removals quotes are competitive, offering great service at a reasonable price, ensuring you get the best value for your money. Our quotes prices do not contain any hidden fees or unmentioned additional charges, quoted amounts will not be amended without customer knowledge and approval. Use our contact details to reach out and request an estimate.
Customers have the benefit of receiving free, spot-on advice for the duration of the removal. Of course, the removal planning in London itself will be coordinated by our logistics experts who will keep everything on track and under control.
The Booking and Moving Process
Throughout the whole process, from the initial booking process to the final moving day, our team excels in providing personalized support. Unlike other moving companies, we offer a no-obligation quote, video call also available, allowing you to understand the cost implications without any pressure. Our skilled staff can dismantle furniture efficiently, ensuring safe transport to your new address. Additionally, we provide a range of additional services to cater to every aspect of your move, simplifying your transition and giving you peace of mind as you embark on this new chapter at your new home.
For Large Domestic Moves
For larger moves, we provide a video survey option, allowing us to assess your needs more accurately and plan the logistics of your move without the need for an on-site visit.
We are fully licensed and insured, we maintain round the clock customer support and provide for flexible and convenient service hours during all days of the week. We will schedule your house removal for a suitable time and day of the week, in order to avoid excess disruption to your daily schedule and commitments.
All our services, including furniture removal and domestic moving, are covered by comprehensive public liability insurance, giving you added peace of mind.
Should you have any specific requirements or considerations, please let us know in advance so that we can factor those in the house removal service and provide you with even better coverage.
For example, if you require a parking space to be reserved for the removal van, we can arrange this as part of our complete solution for your moving needs.
Domestic Removals and Furniture Assembly/Disassembly
Moving house can be a stressful experience, but with our teams, moving to a new home in London cannot possible be more effortless. In addition to our specialised packing and experienced domestic removalists, we also offer a furniture assembly and disassembly for your whole household. Our team of professional house movers can disassemble your furniture, pack it securely, transport it to your new home, and reassemble it for you, saving you time and energy. With our full transparency policy, we will keep you updated on the progress of your removal and provide GPS tracking options so you can track the whereabouts of your belongings. We always aim to make your house removals service as smooth and hassle free as possible, allowing you to focus on the excitement of settling into your new home.
This fantastic service is part of our commitment to handling all the boxes and details of your relocation, making it a completely stress-free move to your new house.
Reliable residential relocations in the capital
Since the foundation of our removal company, we at Get Removals, as expected from one of the reputable removal companies have adopted and followed to the letter a full transparency policy. We operate in such fashion because we want our customers to know that they have delegated their domestic removals London to diligent contractors who care about their peace of mind. This means that we will provide you regular updates about the progress that is being made and more importantly that you will be able to track the whereabouts of your belongings with our GPS tracking options.
Additionally, we are a fully insured London removal company, ensuring that every aspect of your move, from packing services to transportation, is handled with the utmost care and professionalism.
The British capital has been founded by the Romans, back then the settlement was called Londinium. In the heart of London is one of its original areas – City of London. The capital's ancient core is only about three square kilometres in surface area, but houses some of the most important institutions and buildings in London Area. Administratively, the City is the smallest constituency in the country, with a resident population of only seven thousand three hundred something people. The modern metropolis expanded and grew around the original settlement.
Our home removal service stands out in the industry due to the unique combination of flexibility and professionalism. As a premier removals firm, we understand the dynamic nature of home removals. Therefore, our removals companies offer a highly flexible service that adapts to your specific needs and schedule. Whether you require a full home removals service or selective assistance, our team of professional movers is equipped to handle every aspect of your move with utmost care and efficiency.
We pride ourselves on delivering a seamless and stress-free experience, ensuring your transition to your new home is smooth and trouble-free.