With Get Removals your house relocation will be made a breeze! We will handle the entire removal from start to end so you have fewer things to worry about and more time to deal with the other more important aspects of moving house.
London house Removals
Our house removals in London are the sensible, efficient and affordable way to relocate your household without spending a small fortune or having your items lost or damaged along the way.
We know that moving houses is about relocating high value and irreplaceable items which must be protected from damage during handling and transit at all cost. In light of this, residential customers can take advantage of our specialised packing service. Good packing and wrapping will keep your valuable safe during the removal – a small price to pay for extra peace of mind. Packing will be done using industry grade material and supplies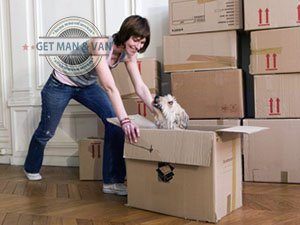 In order to ensure safe handling, efficiency and timely completion of your house relocation, we work with specially trained domestic movers who know all there is to know about moving residential properties. They will go about their work in a well-organised, systematic manner and work their way through each stage of the removal with professional pace, precision and efficiency.
Benefits of using our Domestic removal service in London
Our domestic removals in London are the quickest, safest and most efficient way to relocate your household contents from A to B. Your belongings will be transported in clean, well maintained removal vehicles, which are specially equipped for the job. Behind the wheel, we have our experienced cargo drivers who have the necessary skills and expertise to do the job right. Our removal vans are:
GPS navigated and tracked in real time;

Cleaned thoroughly after each removal;

Fitted with safety and heavy lifting equipment;
Cost wise, our home removals are the affordable and sensible solution to your situation. We will not cost you silly money – quite the opposite, we stick to affordable services that meet our customers' budget requirements in full. You will be provided with:
An individually prepared service quote corresponding to the specs of your removal request;
Customised pricing that covers your budget requirements;
Our quotes prices do not contain any hidden fees or unmentioned additional charges, quoted amounts will not be amended without customer knowledge and approval.
Customers have the benefit of receiving free, spot-on advice for the duration of the removal. Of course, the removal planning in London itself will be coordinated by our logistics experts who will keep everything on track and under control.
We are fully licensed and insured, we maintain round the clock customer support and provide for flexible and convenient service hours during all days of the week. We will schedule your house removal for a suitable time and day of the week, in order to avoid excess disruption to your daily schedule and commitments.
Should you have any specific requirements or considerations, please let us know in advance so that we can factor those in the removal service and provide you with even better coverage.
Reliable residential relocations in London
Since the foundation of our company, we at Get Removals, have adopted and followed to the letter a full transparency policy. We operate in such fashion because we want our customers to know that they have delegated their domestic removals in London to diligent contractors who care about their peace of mind. This means that we will provide you regular updates about the progress that is being made and more importantly that you will be able to track the whereabouts of your belongings with our GPS tracking options.
The British capital London has been founded by the Romans, back then the settlement was called Londinium. In the heart of London is one of its original areas – City of London. The capital's ancient core is only about three square kilometres in surface area, but houses some of the most important institutions and buildings in London. Administratively, the City of London is the smallest constituency in the country, with a resident population of only seven thousand three hundred something people. The modern metropolis expanded and grew around the original City of London settlement. The main part of the modern city is known as Greater London.
The Elizabeth Tower is unequivocally the most notable landmark of the English capital. Many people wrongfully know it as Big Ben, which is actually the nickname of the structure's Great Bell. The tower dates back to the mid-19th century and was designed by renowned English architect, Augustus Pugin. It is 96 metres high and at the time was the tallest edifice in the British capital.