Conducting a proper long distance relocation requires careful planning of each step of the removal. So if you have never planned a long distance removal before, play it safe and get in touch with us. We are a professional and fully licensed man and van companies that has conducted numerous long distance relocations throughout the years and that will surely handle your relocation in a smooth and swift manner.
We have been in the removal business for over ten years and we must modestly share with you that to date we have never failed to complete a job within the predetermined parameters. We always manage to complete the projects for which we are hired because we always approach the jobs from several angles and consider all possible avenues before we choose the right approach. In many ways it is because of the fact that we take our time to consider all the details and variables that we have become ones of the finest man and van companies in London.
Any type of removal from London to Liverpool
Presently we are the moving company with the largest array of removal services. In fact our service list is so immense that we had to divide some of our services into smaller groups so that our clients can find more easily the particular service that they need. Please take note that all our services are tailored to be eco and pet-friendly. If you are wondering why we have customized our services to be pet-friendly the answer is quite simple. We have done so because our experience has shown us that pets just like humans do experience stress and anxiety when they are moving from one place to another.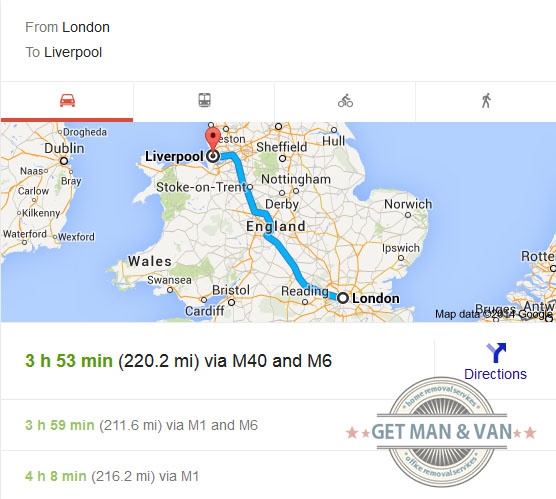 At the moment we are the most sough company when it comes to removals to Liverpool because we handle such projects on a regular basis. Or said in other words we have conducted so many removals to Liverpool that we know the process and way like the back of our hands.
If you are still not convinced that we from Get Removals are the ideal moving company for your upcoming relocation, take into consideration the following facts about us before you make your final decision.
We are an insured man and van company
We accept all types of payment (cash, bank transfer, credit cards and etc)
We will track our moving vans via GPS so you will also know where exactly your belongings are
We provide free personalized free quotes
The city of Liverpool is situated in the Merseyside region of England and is one of the largest and most populated cities of England. Liverpool is home to several landmarks that attract domestic and foreign visitors. The Port of Liverpool building is arguably the most noted landmark of the city. The edifice was built during the first decade of the 20th century and is listed as a Grade II building. Other well-known landmarks in Liverpool are the Cunard Building, the Royal Liver Building, St. George's Hall and Anfield Stadium which is the home ground of the legendary Liverpool Football Club.