Many of our clients ask us frequently what makes us the best man and van company in Fulham and the answer is that many aspects of our company make us better than our competitors. For instance we are amongst the most experienced removal companies in the area as we were amongst the first online businesses in the area.
There Are a Lot of Things We Can Do For You
Another aspect of our moving company that gives us an edge over the other moving companies in the area is our immense service list. We are known throughout Fulham and the surrounding areas as the removal company with the largest array of removal services. Down below we have listed some of our most sought moving services.
Full and partial domestic removals
Full and partial commercial removals
Heavy duty and specialized removals
Packing and unpacking services
Loading and unloading services
Transportation services
Moving van and moving tool rentals
Waste collection
Relocation consultations
Sale and delivery of packing supplies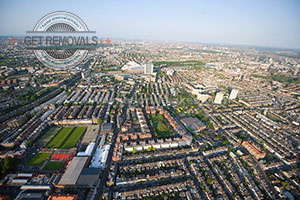 Take into account that all our removal services in Fulham are divided into several sub-services so that our clients can find more easily the particular service that they need. If you wish to see our entire service list including the sub-services, go to the services sub-page of our company website.
Wherever near Fulham you are
Our employment policy is another factor of our moving company that makes us better than the other removalists in the area. It makes us better because it allows us to employ only the most capable and dedicated movers. It is because of our strict employment policy that we have managed to gather the best team of packers, carriers and drivers in the area. Even more to our knowledge we are the only removal company in the area that follows such a policy.
Now that you are certain that we are the best movers in the area and that we provide the best removals Fulham based, don't waste any more time and give us a call today to discuss the parameters of your relocation with one of our phone operators. On the other hand if you require further convincing that we are the best please don't be shy and make a request for a personalized free quote. Once you go through your free quote you will be more than persuaded that we do indeed provide the finest removals in Fulham.
Organise a large scale relocation
To our knowledge we are presently the only moving company in the area that has the necessary assets and knowledge to properly conduct specialized removals. If you are wondering what specialized removals are? Specialized removals are relocation projects that involve the moving of large and bulky items, fragile and delicate objects, works of art and antique furnishings, vehicles including boats, machines and special office equipment.
All items are safely packed
We also provide highly standard packing services to all our clients that either don't have the time or know-how to pack their belongings properly. We dare say that we provide the finest packing services in the area because for one we use highly reliable packing materials and two the best packers work for us. Know that our packing services are provided at very affordable prices, so have no worries that you may have to break bank.
Clear out the junk from your home or office
We also provide excellent storage solutions to everybody that has storage problems at their home or place of work. We have numerous storage units of different sizes that are fitted with top quality environmental systems. So instead of cluttering your basement and garage with items that you rarely use, bring them to us and we will keep them safe for you. This way you will have enough space in your home or place of work without having to throw away any of your possessions.
Fulham – Some Local Information
As we mentioned several times already we are a Fulham based man and van company. The area of Fulham is located in the central parts of the English capital and is part of the London Borough of Hammersmith and Fulham. Charing Cross, London's prime junction is situated at approximately four miles from the area of Fulham. In the London Plan, Fulham is classified as one of the 35 major centres in Greater London. The most noted landmark of the area is Fulham Palace which at one time was the official home of the Bishop of London. Today the palace serves the purpose of a museum.
The Borough of Hammersmith and Fulham is recognized as in Inner London Borough and has a population of 182.000 people. The borough is governed by the Hammersmith and Fulham London Borough Council which is seated in the district of Hammersmith. The borough is comprised of a total of 15 districts, the most famous of which is the district of Fulham. The borough is the home of the world famous football clubs of Chelsea and Queens Park Rangers.