Are you looking for a professional man and van company that can lend you a hand with your relocation from the United Kingdom to Spain? If you are, know that your searching has come to an end because you have found us and we are eager to help you with your relocation project.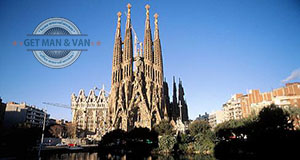 We from Get Removals have been in the relocation business for over a decade and throughout the years we have worked on an innumerable account of domestic and international relocation projects. Please take note that to date we have never failed to complete a relocation project in full accordance with the needs and requirements of our clients. So you can be more than certain that we will manage to handle your removal to Spain, in time and in an expedient and safe manner.
If you are wondering how we are able to conduct long distance relocations in a flawless manner don't because the answer is quite simple. We are able to handle long distance removals smoothly because of our highly capable and ambitious removalists. In fact we are known to be the man and van company in the UK with the largest team of professional movers. We have gathered a large team of carriers, packers and moving van drivers because we want to be able to help as many people as possible. So if you are worried that we may be too busy and turn you down, don't be because up to now we have never declined services to any of our clients.
Another aspect of our man and van company that is highly appreciated by our clients is that we work in full transparency. This means that we will never keep you in the dark and more importantly that we will never shock you with hidden fees and taxes. We work in an open and honest manner because:
We want to

earn the loyalty and trust of our clients

We truly believe that

honesty is the only way to conduct business

We know that honestly will create a

strong bond between us and our customers
If you are still not convinced that we are the perfect man and van company for your upcoming international removal to Spain, give us a call our number and we will provide you additional information that will undoubtedly convince you. Keep in mind that you can call us at any time of the day because we are a moving company that provides and maintains a 24/7 customer support service.
The country of Spain is located in the southern western parts of Europe and is neighbored by the countries of France of Portugal. Spain is one of Europe's biggest and most populated countries. Currently the country has an estimate population of 47 million people. Spain is a unitary parliamentary constitutional monarchy which means that Spain is one of the few European countries that still have a monarch. The main cities of the country are Madrid (the capital city), Barcelona, Valencia, Seville and Zaragoza.