If you don't have the necessary time, energy or tools to plan and conduct your upcoming relocation to Birmingham, give yourself a well deserved break and call us to come and handle your relocation for you. We are a seasoned man and van company that specializes in both short and long distance removals from London to any part of the country.
The type of your relocation is of no concern to us because we have the necessary moving tools to handle both commercial and domestic removals to Birmingham or any other city in the country. So don't be hesitant to call us because we are one of the few man and van companies in the country that can help you with your relocation.
Take into account that we are the only moving company in the city that provides moving tools rentals. We provide this particular service because we want our clients to have access to top notch moving tools and because it gives us an over our competitors as it makes us different. Know that our rental fees are highly affordable, so you won't have to break bank in order to get your hands on first-rate moving equipment.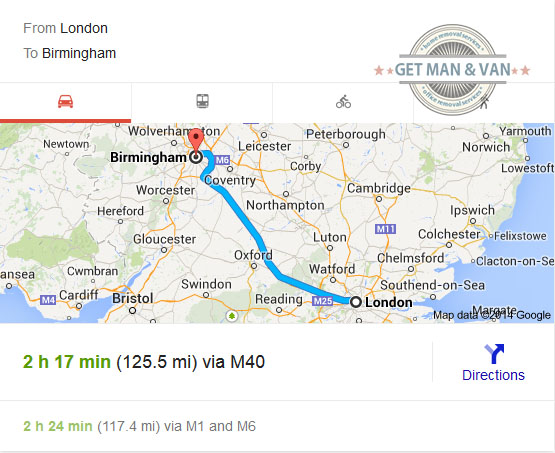 Some of our features that can help you move from London to Birmingham
It is also because of our moving tools that we are able to conduct specialized removals to Birmingham or anyother city in the country. Under specialized removals understand the moving of items such as:
Heavy duty and industrial machines
Vintage items and works of art
Specialized office equipment
Manufacturing machinery
Breakable, fragile and delicate items
If you are still not persuaded that we from Get Removals are the ideal solution for your long distance relocation, go to the testimonials sub-page of our company website. There you will find numerous positive reviews from our clients in which our services, competence and professionalism is highly praised and acclaimed.
Once you go through our testimonials you will be more than certain that we are indeed the ideal man and van company for your upcoming domestic, commercial or specialized relocation project. If you wish to call us and book us, you can get our contact details from the contacts sub-age of our website.
Birmingham is the second most populated British city and is located in the central parts of England. The city is home to some of England's most notorious landmarks such as the Birmingham Town Hall which many consider to be the focal landmark of the city. The town hall is a Grade I building was opened in 1834 and renovated from 1996 to 2007. The hall is built in the classical architectural styles and was designed by the prominent architects Joseph Hansom and Edward Welch. St. Martin in the Bull Ring is another highly prolific landmark of Birmingham. The church has a total of 16 bells and stands at the same site where once stood a 13th century church. Another well-known religious building in the city is St. Philip's Cathedral. The cathedral dates back to the first half of the 18th century and is the official seat of the Bishop of Birmingham.