Relocating your office or place of business is a complex process which is best handed by qualified professionals. Indeed a professionally organised office removal will cost you a certain amount of money, but that would be money well spent as you get extra peace of mind and assurance of timely, no risk completion of the project.
If you choose Get Removals to handle your office relocation requirements, you can be sure to receive the best possible service at the best possible price. We know what is expected and required of top grade office removals in London and will live up to our customers' expectations.
We know how to do office removals in London
We have extensive experience in office and commercial London removals. We have the technical capacity and service expertise to organise, conduct and complete the removal within the required amount of time, without any hiccups along the way.
We know that moving offices during business hours can be a real challenge and unnecessary hassle for our customers. In light of this we will organise and conduct the removal in a suitable off peak time, which could be evenings or weekends. This minimises business downtime and reduces lost profits.
Our diligent and well organised removal teams will have everything wrapped up and ready to go within the shortest time possible. Special care and consideration will be taken when packing, shifting and loading delicate office equipment and expensive electronics.
If there is no way to conduct the removal out of business hours, our moving teams will go about their work in the most unobtrusive and courteous manner, in order to avoid disruption to staff duties.
Your office contents will be transported over to your next place of business quickly and safely as we have an entire fleet of different sized removal vehicles at our disposal. We will dispatch as many removal vans as necessary in order to have your office shifted as soon as possible.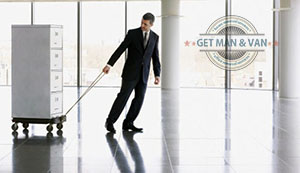 As expected, packing, securing, loading and labelling of items in transit will be done by our removal teams as they know how to do this right. Behind the wheel we got our experienced cargo drivers who will make their way to your next address with utmost care and caution.
Our commercial removals are well priced, highly comprehensive service solutions which cover everything from start to end. This also includes prep work, and follow up if necessary.
Customers will receive free, no obligation quotes and flexible pricing in order to meet their budget requirements in full.
Using our office removals service to do office clearance
The company is also fully licensed to perform junk removals so we can clear away any leftover or discarded items off the premises and save you a ton of unnecessary hassles. The junk removal option can be included as part of your office removal without excess costs or too much fuss.
We hold full liability insurance and nationwide licensing. Office removals are available for booking seven days a week, fifty two weeks a year. Large jobs will be preceded by a preliminary viewing and consultation.
A solution that will save you money and time
It is always wiser to rely on a professionally trained and qualified team of movers when organising an office relocation instead of leaving that demanding task to your employees. Our friendly and licensed moving specialists in London will complete the entire removal process very quickly because they have many skills and the equipment which they use in specialised. A faster and properly done relocation will mean fewer expenses for you.
If you book us, you will also avoid any delays as we work in an exceptionally organised manner. Also, we are experienced enough to tackle any unexpected challenges that may stand in our way because our meticulous staff is incredibly resourceful.
London is a leading global city with tradition, development and success in numerous strengths like the arts, culture, education, science, medicine, politics, economy, commerce, fashion, entertainment, healthcare, engineering and many, many more. Being one of the most important financial centres around the world, the British capital has the fifth largest GDP of any metropolitan area on the planet. According to international flight travel statistics, for a period of time now London is the most visited city in the world by arrivals. Stats also indicate for London to have the world's largest city airport system, which is measured in number of passengers i.e. passenger traffic.
Since London is one of the biggest cities in Europe, everything in it comes in great numbers. For example, there are more than 170 museums in the city. Also, the English capital is home to approximately 380 public libraries. In addition, London hosts about 250 festivals on an annual basis.