Relocating your office or place of business is a complex process which is best handed by qualified professionals. Our office removal services are tailored to ensure minimal downtime for your business during the move. Indeed a professionally organised office removal will cost you a certain amount of money, but that would be resources well spent as you get extra peace of mind and assurance of timely, no risk completion of the project.
If you choose Get Removals to handle your office move requirements, you can be sure to receive the best possible professional service at the best possible price. As one of the leading office removal companies, we take great care in handling your office furniture and equipment. We know what is expected and required of top grade office removals in London and will live up to our customers' expectations.
We know how to do office removals in London
Whether you are planning a small office removals or moving your entire office, our team is ready to assist. We have extensive years of experience in office and commercial London removals. Our packing service ensures that all your business items, from paperwork to IT infrastructure, are securely packed with the finest packing materials. We have the technical capacity and service expertise to organise, conduct and complete the removal within the required amount of time, without any hiccups along the way.
We know that moving offices during business hours can be a real challenge and unnecessary hassle for our clients. To make your office relocation in London as stress free as possible, we offer flexible scheduling even at very short notice. In light of this we will organise and conduct the removal in a suitable off peak time, which could be evenings or weekends. This ensures business continuity and reduces lost profits.
Our diligent and well organised removal teams will have everything wrapped up with bubble wrap and ready to go within the shortest time possible. Our crate hire service is an ideal solution for transporting bulky items or delicate office equipment. Special care and consideration will be taken when packing, shifting and loading delicate office furniture, desks, boxes, equipment and expensive electronics.
Office Removals even within Working Hours
If there is no way to conduct the removal out of business working hours, our moving teams will go about their work in the most unobtrusive and courteous manner, in order to avoid disruption to staff duties.
We understand the importance of a smooth transition to your new office location (short or long-distance), and our experienced office movers will ensure your move to the new location in London is seamless. Your office contents will be transported over to your next place of business quickly and safely as we have an entire fleet of different sized removal vehicles at our disposal. When moving office, choosing the right removal company with an efficient service can make all the difference. We will dispatch as many removal vans as necessary in order to have your large or small office space shifted as soon as possible.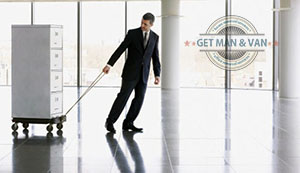 As expected, packing, securing, loading and labeling of items in transit will be done by our removalists as they know how to do this right. Our packing service uses high-quality packaging materials to protect your items. Behind the wheel we got our experienced cargo drivers who will make their way to your next location with utmost care and caution.
Free Quote and Rates for your Office Removals
For businesses that have unique or valuable items like fine art, our team is trained in special handling and overseas shipping to ensure their safe transport. Our commercial removals are well priced, highly comprehensive service solutions which cover everything from start to end. We are proud members of the British Association of Removers, guaranteeing you a reliable and professional service. This also includes prep work, and follow up if necessary. Customers will receive free, no obligation quotes and flexible pricing in order to meet their budget requirements in full. We guarantee that your office move quote would be competitively priced.
Using our office removals service to do office clearance
Office removals in London can be a daunting task, especially if you have a lot of office furniture and equipment to move.
Our Team of Removalists
Our friendly team is here to assist you in every step of your office move, ensuring that your moving date and requirements are met. However, if you opt for a professional removals company such as ours, you can save both time and financial resources. We appoint a dedicated office move manager for each project, ensuring consistent communication and a personalized service. Not only can we transport your office contents to your new address, but we can also assist with the inevitable office clearance. This can be especially helpful if you need to dispose of any unwanted items or junk before the move to the new premises. Our removals company can include junk removal as part of a comprehensive customised efficient service, saving you the hassle of organising a separate clearance. For commercial moves, our team ensures a coordinated approach for a smooth transition on your moving day. By using us as your moving partner with experience in office removals London, you can ensure a smooth and efficient commercial relocation process.
Waste Collection and Disposal as part of your Commercial Move
The office removal company of ours is also fully licensed to perform junk collection and disposal so we can clear away any leftover or discarded items off the premises and save you a ton of unnecessary hassles. Our short notice flexibility means we are available to assist you even when plans change unexpectedly. The junk removal option can be included as part of your office removal without excess costs or too much fuss.
Fully Insured and Licensed for Moving, Storage and Disposal
With our comprehensive removal services, your London office relocation will be a hassle-free experience. We hold full liability insurance and nationwide licensing. The Get Removals team's commitment to friendly service is evident in every aspect of our work. London office removals are available for booking seven days a week, fifty two weeks a year. Large jobs will be preceded by a preliminary viewing and consultation. Along with that we are capable of handling any business storage needs that you might have.
A solution that will save you money and time
It is always wiser to rely on a professionally trained and qualified professional team of movers when organising an office relocation instead of leaving that demanding task to your employees. This approach not only saves time but also ensures that all aspects of your London office moves are handled efficiently. Our friendly and licensed moving specialists will complete the entire removal process very quickly because they have many skills and the equipment which they use in specialised. By choosing us, you guarantee a seamless transition to your new office, or a storage facility, allowing you to focus on your business. A faster and properly done business relocation will mean fewer expenses for you.
If you book us, you will also avoid any delays as we work in an exceptionally organised manner. We pride ourselves on our ability to handle small office moves or large commercial relocations urgently without compromising on quality. Also, we are experienced enough to tackle any unexpected challenges that may stand in our way because our meticulous staff is incredibly resourceful.
London is a leading global city with tradition, development and success in numerous strengths like the arts, culture, education, science, medicine, politics, economy, commerce, fashion, entertainment, healthcare, engineering and many, many more. Being one of the most important financial centres around the world, the British capital has the fifth largest GDP of any metropolitan area on the planet.