People move from one city to another every day because of many different things. Some move in search of better work opportunities or more comfortable accommodation and everyday living. Companies and commercial establishments move in search of more business and customer exposure – the examples are many.
Having said all this, a nationwide removal is best handled by qualified relocation specialists. This is so because a nationwide removal is a full on project which requires detailed planning, good timing and perfectly synchronised execution. Needless to say – avoidance of any errors or delays along the way.
Removals from London to the rest of the United Kingdom
Get Removals can organise and handle your nationwide relocation in the most professional, efficient and affordable manner. We have the necessary technical capacity, service expertise and manpower to arrange the relocation accordingly and ensure timely, safe completion.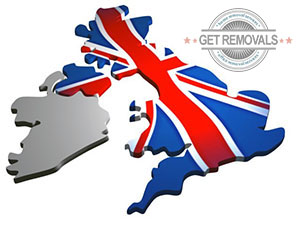 The company has the necessary licensing to operate countrywide and will be able to organise for property removals to any destination in the United Kingdom. We have comprehensive, full liability insurance for customer peace of mind, and ours too of course.
We have many years of experience under our belt and we know the problematic areas of nationwide removals thus we are able to better plan, organise and conduct the relocation – no matter how complex or how far your next destination.
When it comes to multi scale projects like UK removals, prep work and timing are essential. We would advise customers to start their personal preparations at least a month before the planned removal date.
If you have us doing the packing and securing of your home or office contents, we will need about two days to complete the task, though this may vary slightly depending on the number and volume of items we need to pack. Packing and securing of your belongings will be done by specially trained movers who have the necessary practical skills and expertise.
The use tested methods and durable double-walled removal boxes to guarantee the safety of your goods while they are being transported across the country. Count on us for a helping hand with unpacking the boxes at your new place as well. To complement the service and ensure you have a thoroughly stress-free nationwide UK removal experience with us, we can arrange a rubbish removal to be carried out on your premises, so that you can get rid all junk faster. All stages of our comprehensive removal service in the UK are aimed at one main purpose – to guarantee your satisfaction and peace of mind.
Transportation will be done in specially equipped removal vehicles of the appropriate size and load capacity. If necessary we will dispatch more than one vehicle (and extra movers) in order to have everything wrapped up and on its way within the agreed amount of time.
Behind the wheel, we got seasoned cargo drivers with many years of experience. Our drivers know the UK's road network like the back of their hand, plus they are aided by highly functional GPS tracking systems and satellite navigation. All of this adds up to reliable, quick and efficient removals to any destination countrywide.
Risk-free nationwide removals
We work with a dedicated team of moving specialists in London who are not only perfectly familiar with the industry's regulations, standards and latest trends but they are also working in full compliance with them. Therefore, we can guarantee that aside from first-class quality, you will also receive secure nationwide moving services.
We cover many key cities on the territory of the United Kingdom. Our competent movers are prepared to carefully transport all of your furniture and belongings to Liverpool, Birmingham, Manchester or Edinburg. If you can't find the city or the area to which you are planning to move on this list, call us to see whether we work in the region.
Of course cost is one of the most problematic factors for customers moving nationwide. With us though, cost will not be a problem as our nationwide removals are adequately priced and give you comprehensive coverage from start to end. We will sit down and discuss with you the possible options therefore price brackets you can choose from. Our service quotes and flexible pricing aim to cover your budget requirements in full, without making you compromise on additional service options you may require.
Nationwide UK removals are available for booking seven days a week, fifty two weeks a year. In certain cases, removal and delivery time may be subject to weather conditions in the particular district where you are headed.
London is divided by the River Thames. As a result, there are many famous bridges in the city, the most iconic of which is Tower Bridge. It has a length of 244 metres and it is crossed by 40,000 people every day. Another notable bridge in London is Waterloo Bridge.