Welcome to our company website. We are a seasoned and hard working moving team that is ready to assist you in any way with your relocation to Manchester. However do not get the wrong idea that we specialize only in removals to Manchester because it is not the case. In fact we are one of the few moving companies in the city that specialized in both short and long distance relocations.
Why we are the number 1 choice for London to Manchester removals
As an experienced moving company we know very well all the potential hiccups than can occur during the execution of a long distance removal. However we also know all the solutions for the potential hiccups and this is why we have the confidence to guarantee to our clients that their removal to Manchester will get done quickly and more importantly properly.
Take into account that we provide top quality packing services so you don't have to worry about the packing of your belongings as we will do it for you. Also don't worry about the well being of our possessions because we use only first-rate packing materials and storage containers. Know that we provide our packing services just like all our moving services at a highly affordable price.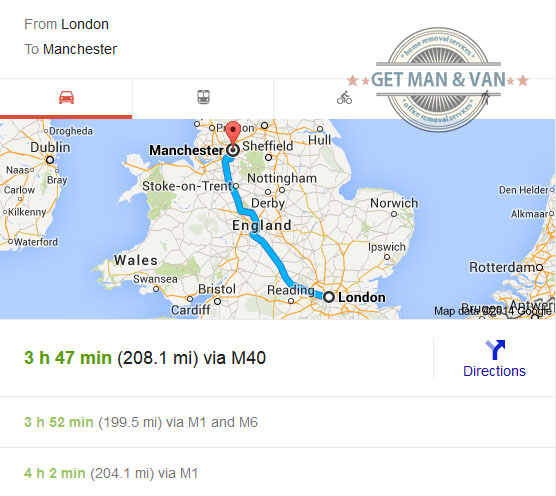 To us it doesn't matter whether you are going through a domestic or commercial removal to Manchester because we have the necessary tools to conduct both types of relocations in a flawless manner. The only thing that you have to do to benefit from our amazing services is to call us and tell us when you are moving and to where exactly you are moving. We will take care of the rest.
Also when it comes to moving van rentals we at Get Removals are the only company that you should call. It is like this because we are currently the moving company in the city with the largest armada of fully equipped moving vans. If you are wondering what makes our vans the best, read the list from down below:
Every single one of our vans is

fitted with top notch navigational and GPS systems

Every single one of our vans is equipped with reliable and high quality safety features
We rent out our vans at highly affordable prices
We are always ready to lend you one of our professional drivers if you are having second thoughts about driving the van yourself
Know more about Manchester before moving there from London
The city of Manchester lies in the northwestern parts f England and has an estimate population of 520,000 people. The city is home to some of England's most renowned landmarks including numerous skyscrapers. Beetham Tower is perhaps the most noted building of the city. The construction of the building started in 2004 and ended in 2006. The building (including the antenna) is 168.87 meter height and was a total of 47 floors. The CIS Tower is another well-known skyscraper in the city of Manchester. CIS Tower dates back to the early 1960s but was the subject of a major renovation project in 2006. The edifice comprises of 25 floors and is 118 meters high making it the second highest building in Manchester.