When it comes to professional grade removal services that are worth your time and money, there is only one name in the SE4, SE21 area you need to know, and that is ours – Get Removals in SE3. We are an experienced and well established moving company which has the expertise and capacity to organise, conduct and complete successfully most, if not all types of domestic removals, business and office removals, piano and furniture removals, as well as additional service options like junk and rubbish removals.
Safety of our removal service in SE13, SE23, Lewisham
Safety of items in our care is paramount, this is why we advise private and business customers to take full advantage of our efficient and affordable packing service – it would be a small price to pay for extra peace of mind. Alternatively, customers can do their own packing, which is fine with us, and we will deliver a kit of high quality packing materials necessary for the task.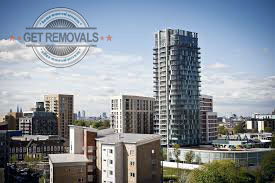 Moving on to handling and transportation – we work with specially qualified movers and experienced drivers.
Find your district in Lewisham below
Our removal teams are well organised and very punctual – they will pack, secure and load your items with utmost care and attention. Safe and speedy transportation is guaranteed as our drivers know the country's road network like the back of their hand.
Transportation capacity is what we have plenty of. We own and maintain a complete fleet of specially equipped removal vehicles ranging from compact city vans to heavy duty intercity transport vehicles. To elaborate further, our vans are:
Of variable size, wheelbase and payload capacity;
Fully equipped with hoists, latching, removal blankets and all other necessary tools and equipment;
Fitted with satellite navigation and cleaned thoroughly after every removal;
Affordability is a key aspect of our moving services, we know that pricy removals in Lewisham, SE6, SE12 will be a no-go for our customers this is why we keep prices within reasonable limits. On the same note, all customers will receive:
Individually prepared, free of charge service quotes;
Fair, custom tailored pricing that corresponds to the specs of the job;
Excellent and much needed midweek discounts on all removals;
The moving company of choice of local homeowners
We have been the leading domestic removals Lewisham based and operating company for years and we maintain a tradition of providing our clients with the best and most hassle-free service possible, on a very competitive price. We are leading experts in the field of moving homes here and you can count on us completely for both big and small scale projects.
An experienced team of specialists
Get in touch with us now if you want us to move your office too. Our office movers in Lewisham are trained and extensively experienced. They work on a flexible schedule and pretty competitive rates that will definitely fit your company's budget. Tell us when you want the office removal Lewisham service offered by us to be delivered, and we will make sure to make that happen for you. Get in touch now if you want a free quote or a more detailed discussion on your needs.
Clean and swift garbage removal options
Naturally, we can help you with rubbish removals too. Our waste removal service in Lewisham comes with a guaranteed quality. We recycle most of the junk we collect. The state of the art trucks, as well as the very efficient fast loading methods our technicians are trained to use ensure your project will be completed on time and the results will exceed even your highest expectations, so just call us now for booking.
Some Lewisham Borough Info
Our quotations and price offers are free of any hidden fees or unmentioned additional charges. We have extra wide coverage on collections and deliveries. We coordinate all SE8 Lewisham removals through our dedicated call centre, which is also responsible for our punctual and helpful round the clock customer support. The company has full liability insurance.
Being able to bypass the nuisance of removal prep work through our comprehensive services, means you have more time and energy to explore one of London's major inner city districts. Lewisham is designated as one of the thirty five main metropolitan and admin centres of the capital. Some say SE14, SE26, Lewisham's central zones are somewhat lagging behind other surrounding boroughs, but the local council has big upgrade plans. Lewisham has its origins in ancient Saxon days – there is even a written account of the area, which was then called Levesham. Lewisham took a heavy beating during German bombing raids in WWII, the commemorative plaque marking this horrible day is situated outside Lewisham Shopping Centre. Commercially, the suburb is well-developed and provides plenty of shopping, services and entertainment.
We have the pleasure to be servicing one of the best residential boroughs in south London – that of Lewisham. The area is located near the City and offers good transport connections and a number of entertainment and art facilities that would appeal to all tasted. What is more, Lewisham is very welcoming to cyclists. Two Cycle Superhighways are planned to be operational on the territory of the borough in the near future, so the conditions are set to improve even further.