If you don't have the necessary resources to conduct your upcoming home or office removal have no worries because we are here to help you. We are a friendly and dependable moving company that provides high standard moving services.
Book a team no matter where in Hammersmith you're located
Presently we are the favourite moving company of the Hammersmith residents and business owners due to the fact that we always manage to always successfully finish the projects which we are hired to do – ahead of time. We always try to complete the removals  in Hammersmith, W6 with time to spare, as we understand very well the concept of "time is money", especially when it comes to office removals.
For Businesses in Hammersmith
Speaking of office removals, we want you to know that we have divided our office removal services into two categories.
Full office removals– meaning that we will plan and conduct your relocation from start to end.
Partial office removals– meaning that we will take part only in one or several stages of the relocation.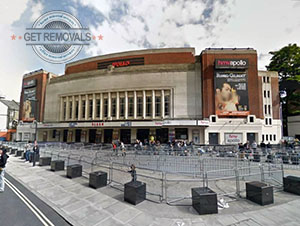 We have also divided in such manner our domestic removal services, tenancy removal services and heavy duty removal services. If you want to see our entire service list, go to the services sub-page of our company website. There you will find detailed information about every removal service that we provide.
If you are having doubts that we are as good as we claim to be, please go to the testimonials sub-page of our website. There you will find innumerable testimonials by our former clients, who praise highly our services and professionalism. We are also certain that you won't fail to notice that some of our most loyal clients are amongst the most notable residents and business owners in the area.
Now that you are certain that we are the best option for your upcoming removals Hammersmith, don't waste any more precious time and give us a call as soon as you can so that we can meet in persona and discuss the details of your relocation. Also once you contact us don't be shy to ask us any questions that are on your mind. We will not only happily answer to your questions but provide you supplementary information about us and send you your personal free quote.
Our fleet is our strength
The fleet of removal vehicles that we maintain is the pride of our company. In addition to full-scale Luton trucks, we have MWB, LWB and SWB vans that are suitable for removals in W6 Hammersmith of any scale and nature. All vehicles are supplied with GPS navigation and kept impeccably clean at all times, so they contribute to the overall great moving experience with Get Removals.
Over the centuries Hammersmith W6 has been connected to hosts of very notable people. In the 21st century famous local residents of the area include Lily Allen, the famous singer, and model and actor Cara Delevingne, while in the past the district served as home to such a diverse company such as actors Ralph Fiennes, Hugh Grant and Tom Hardy, celebrated travel writer Eric Newby and of course former member of the cult rock band Depeche Mode, keyboardist Alan Wilder.
Home moving of your dreams – all in one place
Our packers and movers are definitely the people you want to turn to when you are relocating your household in or across Hammersmith. We will look after your comfort on every step. Free moving boxes and moving house tips are available to all people who decide to move their homes with us, so don't worry. The solution to all your problems awaits you at a phone-call distance with the best removals in Hammersmith company to be found today. Just reach for the phone and dial our number, the rest is our responsibility and we will take care of it.
As aforementioned we are based in the area of Hammersmith and therefore mostly operated in the area. Hammersmith is a London district that is located in the western parts of the city. The district is part of the London Borough of Hammersmith and Fulham and lies in the W6 postal code district. Hammersmith is neighbored by the areas of Shepherds Bush from the north, Kensington from the east, Fulham from the south and Chiswick from the west. The famous Thames Rivers flow through the district. Several of London's most iconic buildings such as the The Ark and 22 St. Peter's Square are located in the district of Hammersmith. However the most noted landmark of the district is Hammersmith Bridge. The bridge was originally built in 1827 but was demolished during the 1870s as it wasn't strong enough to hold the increasing traffic. The current bridge was built in 1887 and is presently listed as a Grade II structure.
Hammersmith has a very favorable location that will definitely appeal to your needs. The Lyric Theatre is the dominant cultural institution in the area, so you would want to check it out when you have some spare time on your hands.