Indeed, London is one of the best known metropolises in the world, and many people would be happy to work, live or spend their holiday and money in the British capital. London is also known for having heavy traffic, and somewhat confusing road rules at times – every city has its driving specifics no doubt about it. For newcomers though, driving on the opposite side of the road can be a bit of a problem, and a nuisance (perhaps the property removals service should also be accompanied by a crash course in UK driving) – if you intend to drive around the city that is.
If riding on public transport is more your thing, which mind you is a good way to get your bearings around the city after the house removals service is through and you are on your own, then check out what is the most suitable type of public transport to and from your new residence. London's variety of public transport features buses, trams, trains, river shuttles and cabs. Each has its upsides and downsides, but overall the city's public transport system is a well-oiled machine working in your favour.
Here are some interesting facts about London's public transportation: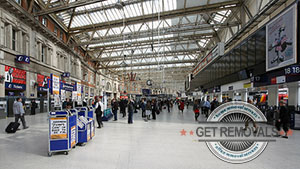 Waterloo is London's busiest tube station, with over eighty two million in passenger traffic coming through the station every year.
There are two hundred and seventy active tube stations that make up London's underground rail network. The total distance between all tube stations in the city adds up to four hundred and two kilometres (for those still thinking in imperial units that's two hundred and fifty miles of railway).
London's railway network is both underground and overground – there are eighty three active stations which make up the city's overground railway system.
Usually in a day, there are three and a half million journeys made on London's tube. In one calendar year, trips made usually gravitate around the one billion mark.
Traffic lights are a universal way to regulate and navigate traffic, no matter where in the world one learned to drive. London makes no exception – there are a total of six thousand traffic light sets currently operational in the city (imagine how many lights the property removals people or cabdrivers go through each day, jeez).
Cabdrivers in London are called Black Cab Drivers (taxis in London are traditionally black). They are required to pass the so called 'knowledge test' which puts wannabe cabbies through gruelling checks of the routes and locations they need to know. The all-London test is based on learning more than three hundred and twenty different routes, covering twenty five thousand road arteries, also twenty thousand sites within a six mile radius of Charing Cross (the centre point of the city).
Those red double decker buses are another traditional transport icon of the British capital. At the moment, you can ride on any of the eight thousand seven hundred and sixty five buses currently in operation around London – just don't forget to get right ticket!