Currently, the average cost of buying a home in the UK is the staggering two hundred and seventy two thousand pounds, mind you this does not include any additional expenses like relocation services etc. This is indeed a whopping figure – the highest in years. Having said this, how much 'home' one owns per pound, can vary in different cities across the United Kingdom or Ireland.
If one was to sell a two hundred thousand pound residential property (anywhere in the country), the money would get them the following, in terms of property size and location:
London 
For two hundred thousand pounds, a person can buy a small one bedroom flat in average ranking areas of the British capital like Brixton, or Shepherd's Bush. Again, this only covers the property's asking price, additional expenses like relocation services, financing etc. are not factored in. London is known to have a robust and competitive property market, which was able to survive the property surge and bust of two thousand seven. When buying residential property in London, people are turning away from size as the sole criterion of purchase, in favour of modern living conveniences like easy access to shopping, services etc. but before all close proximity to convenient public transport. When looking to buy a two hundred thousand pound residential in London, do not expect any outside space – one would be extremely lucky to get a parking spot.
Cardiff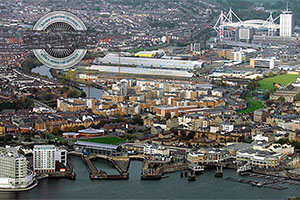 The Welsh capital will definitely make your money go further. Currently, two hundred thousand pounds in home buying capital (relocation services costs excluded) would get you a decent sized three bedroom, semidetached house with plenty of parking and garden space. An example of one such area in Cardiff is Llandaff – only a short walk from city centre. An alternative way to spend your two hundred grand would be to get a brand new, two bedroom apartment with a stunning panoramic view over the water, in Prospect Place, Cardiff Bay. Residential properties in Wales have been traditionally lower than those in England, trend continues.
Edinburgh  
If you want to spend your two hundred thousand pounds on a home in the Scottish capital then act fast as good places change hands in days, if not hours. Edinburgh is somewhere between London and Cardiff in terms of pricing and house size. Two hundred grand would get you a two bedroom flat with period features in a decent part of the city. Again this excludes any additional expenses like relocation services, financing and others such. Edinburgh is known to have a highly competitive property market.
Republic Of Ireland
Ireland was hit hard by the property market crash from a few years ago, and house prices are still recovering. This means that here, you get the most bang for your buck. For example, the sum of two hundred thousand pounds would get you a modern, five bedroom detached home, in Drumlish, as well as a decent amount of land with it. Once the Irish property market has recovered in full, expect a rise in house price in many towns and cities.