People are always looking for the easiest, most affordable and efficient way to move their office or household to another location. This is only natural, as the average property removal can present individuals with a range of unexpected issues and challenges to overcome.
At Removals Stamford Hill we have the easiest, most affordable and efficient removal services, all under one roof, ready for you to choose. We will expertly handle anything from single item removals, to full scale commercial property relocations and all in between. Our expertise spans over domestic removals, business removals, office removals, junk removals, rubbish removals, single item removals and many more. Customised service solutions are also available at very reasonable prices.
Well drafted removals in Stamford Hill
In order to optimise the work process, cancel out the risk of damage and ensure punctuality, we work with specially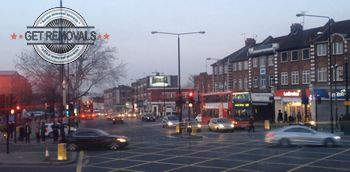 trained movers, organised in efficient removal teams. Our guys will go about their work quickly, quietly and effectively without any time wasting or chitchat about the weather.
We are just as serious about transportation from A to B, this is why we employ experienced drivers who have the necessary skills and expertise to ensure the safe transit and timely delivery of your belongings to their next destination. Removal of items will take place in clean, specially equipped transport vehicles of different size and load capacity.
A team of movers you can trust
Although, our removal crews are made up of experienced professionals, we still recommend taking advantage of our efficient and affordable packing service for extra protection of your belongings during the relocation. Should you wish to do your own packing, by all means let us know and we will deliver a kit of packing materials to your door step and leave you to it.
By using our professional moving services you not only save time and effort, but also a decent amount of money. Our operators will hand out free, no obligation service quotes and flexible pricing that meets customer budget requirements in regard to projects for removal in Stamford Hill. On top of that, we offer excellent midweek discounts on all removals.
But wait, there is more – we maintain reliable customer support twenty-four hours a day, seven days a week. We also provide spot-on removal advisory and maintain nationwide coverage on all deliveries, pickups are done throughout London and surrounding areas. The company holds full liability insurance and double checks each stage of every removal with our dedicated call centre.
Leading professional movers in N15 and N16
Leave it to us to handle the specifics of your upcoming removals in Stamford Hill. Our licensed packers and movers are experienced in carrying out domestic and commercial relocations alike. No job is too big or too small for them. What we offer you is a great quality moving service that will cover the needs of your removal in Stamford Hill completely without putting unnecessary strain on your budget. Check out our prices by requesting a free no obligation quote now.
Since our diligent and well-organised removal teams are on the case, customers have nothing to worry about and the opportunity to be outside the house, covering other aspects of the removal or just kicking back for a couple of hours, along one of Stamford Hill's commercial strips. Stamford Hill is an interesting part of town, home to the largest community of Haredi Jews in Europe. The local Hasidic Jewish population, numbers over thirty thousand people. Traditionally, Jewish communities around the world have high birth rates. Stamford Hill is no exception to the rule and the area has double the national crude birth rate – more than twenty five births per one thousand of the population. Development and urbanisation in Stamford Hill began with the arrival of the nineteenth century. In the hundred years to follow, there were many large and wealthy homes built in the area.
The North London district of Stamford Hill is a well known place. The current population living here is estimated to be 68 050 people, of whom some 30 000 are Hasidic Jews. Stamford Hill is noted for having nearly double the average birth rate of England. Notable locals include singer, songwriter and vocal producer Leona Lewis, theatre director and designer Richard Negri and many others.