Many people who are in the process of moving house are also considering property downsizing. These days, sacrificing some living space in favour or better financial stance and more cost efficient living is not that uncommon. The main problem with downsizing is how to go about reducing the amount of personal belongings as a smaller property would also mean less storage and living space.
Organising your own personal effects is important so take the time to do it properly – it will be worth it in the end. It is possible to ask the movers handling your relocation for some basic advice on the matter but you have to make the final call and decide what comes with you and what doesn't. Nevertheless, consult with your removal company for all other aspects and stages of prep work concerning your relocation as they will likely have more than sufficient know-how on packing and securing of items prior to transit.
The biggest problem with sorting which items will be coming along and which won't, is choice. It is understandable that people will not wish to part ways with many of their items as some have sentimental value, others have been in the household for years and people are used to them. In the end though, downsizing is downsizing and certain cuts would have to be made for the greater good.
First step of this choice process is sorting your belongings in two general groups. One group is the items you simply cannot do without, this obviously includes certain equipment, appliances, as well as most of your personal belongings.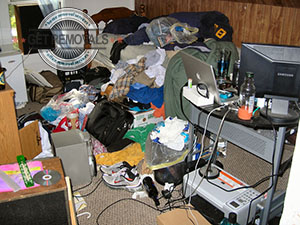 The second group is the items which you can live without. These could be possessions that you no longer need/use but never got around to disposing of. If you take a quick tour of the house and make a list of such items you are bound to lighten the load considerably as there will be many belongings which don't really need (anymore). General rule of thumb is that if the item has been sitting unused for more than six months then consider it as clutter.
If the stuff is in good nick, by all means sell it or give it to charity, both options are suitable and will be beneficial for you, and/or people in need. Keep in mind though that selling items will have to be done in advance of the removal so give yourself sufficient time to get organised. In many instances, the removal company handling your relocation will also organise for a specialised clearance of the premises and save you the time and effort in getting rid of stuff on your own – ask them if they can arrange that for you.
One major benefit of reducing the volume of your items prior to removal is the reduction of removal service costs. If you have less stuff to relocate, then chances are the removal company will use a smaller sizes vehicle or engage fewer people for the actual removal. These factors could reduce overall relocation costs notably – good news if your new home needs some facelifting or some new features.