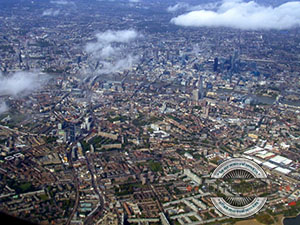 London has the reputation of being ridiculously expensive place to live. There is even a joke that anyone living in the capital is obsessed with property prices. But it is not said that you can buy a house in London only if you are a millionaire. There are many great and still affordable places in London for you to choose from. Once you have laid an eye on a district, finding a good property and a man and van London contractor to move your stuff is easy. So just start looking.
1)      Acton is a west London district that should be the first place to consider. It is just 25 minutes away on the Tube from Central London and has a young vibrant community you just want to be a part of.
2)      Located on the border between Croydon and Bromley, Anerly has everything south east London is famous for – classical suburban character, great transport links and nearby commercial areas. The well balanced property prices here are just another plus.
3)      Catford is the place to move into if you want to stay close to Central London but still are not ready to pay a small fortune for a flat in the trendy districts on the bank of the Thames. It will take you just 20 minutes to get from Catford to Charing Cross so we think that you will not have a problem with the commute, nor with the local community which is particularly nice.
4)      Charlton, like most places in the Royal Borough of Greenwich, has extensive green territories that add up to the comfort and overall beauty of the place. It is a healthy environment for raising kids or just escaping the stress of everyday life in a huge metropolis like London.
5)      Enfield is known for being the first place in the world to have an ATM machine in front of the bank, but today it is much more popular with its pretty affordable prices. It may be relatively away from central London, but travel is accommodated by buses, trains and subway links, so it is not such a great problem.
6)      Forest Hill is a nearly village like suburban settlement in South London. As you can imagine, it is a pretty isolated place that used to have many problems with crime rates, but in recent years things have settled town. You can settle down in Forest Hill also, especially bearing in mind the average price of an apartment here being around 240 000 GBP.
7)      Perivale is a small suburb in Ealing known for being featured in Anthony Trollope's novel The Belton Estate and on a number of episodes of Doctor Who. Also, for being an affordable place to live if you like West London.
8)      Southgate is actually in North London, but in the borough of Enfield. It is a cosmopolitan district with a  vibrant community and an extensive shopping area, which only add up to the attractiveness of the place.