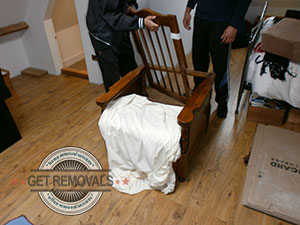 Most people faced with a house or office relocation are likely to use a specialised removal service in order to make the moving process swifter and more efficient. Having said this, many people don't really make a difference between removal companies but choosing the right movers for the job is essential. Not all removal companies are the same, although their services overlap to a large extent, it is the small things that make the difference. Choosing the correct type of removal company is also likely to reflect positively on the overall price of the removal. Here are some basic considerations to help with choosing the right movers for the job.
Type of removal – it is important to choose a removal company that specialises or at least deals sufficiently well with the particular type of property removal that needs to be carried out. In other words, if people need to organise an office or branch removal for their business it would be necessary to choose a moving company that has expertise in commercial property removals. Some movers only handle domestic relocations, or small scale removals for single items, high value possessions etc. Generally, large, well established removal companies handle effectively a variety of removal jobs as they have the technical capacity and manpower required. In many cases though it is better to secure a flexible and efficient man and removal service for smaller or more basic relocation requirements.
Distance of the removal – Choosing the correct moving company also depends on the distance that items need to travel. Some companies only do local removals, others do city or state removals (medium distance removal), and there are those that do international or long distance removals. Obviously, a local moving company would not be a suitable option for medium or long distance relocation projects, and vice versa. Short distance removal companies have more expertise in quick, inexpensive removal jobs including single item removal services. In general, medium and long distance removals can be provided by the same companies, as these two types of services overlap somewhat. In the case of international or long distance removals, it is absolutely crucial to choose an experienced, knowledgeable service provider as crossing borders is no joke and there are a lot of administrative and customs requirements to be met.
Removal Budget – The cost of the removal is usually a key aspect of the project and keeping costs to a minimum makes sense. A good way to limit removal expenses is to match the type of removal with a moving company that offers the particular relocation solution. In other words, a company dealing with local removals will not be the cost efficient option for a long distance or international removal as they literally get out of their way to organise the job – more expenses and longer completion time.
On the other hand, relocating single items of value or small number of goods over short distances is best done by locally based movers simply because using the resources of long distance removal companies for local moves is inefficient in terms of cost and timeframe.