One major problem when you are relocating is that over the years you have spent in your current home, you have most likely accumulated quite a considerable amount of items and you can't possibly take with you when going to the new place. Among those items that are the hardest to move, books take up a leading position. Surely, reading is good for you and it is highly recommended that you have as many books as possible at home, but there is another side to the matter that is relevant when talking about home removals. The space on the vehicle you get with the man and van service is finite. Books take up a lot of space on the van and they weight quite a bit. So if there is a way to reduce the amount of books that you are going to take with you, that would be a good start to making the whole relocation process a bit less full of hassle and strain.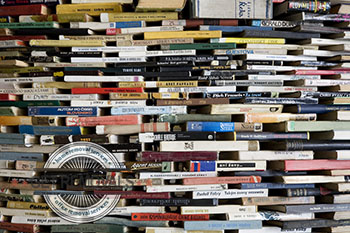 The first thing to do is to decide which are the books you are not going to pack for the move. These would be the ones that you have already read naturally, and you don't have any particular sentimental reasons for keeping – e.g. the books that you have gone through, enjoyed or hated, but you don't think that you are ever going to open again.
Once you have decided on the issue described, it would be a good time for you to looking for what you can do with the books you don't need any more. Naturally, simply tossing them in the trash or giving them out for recycling is not an option.
You can first ask your friends if they want some of them.
You can make a garage sale where books are to be sold together with other unnecessary items (for you, that is) that still can be of good use to someone else.
You can

sell your books online

. Thanks to modern technology, it is no longer necessary to wait for the Thursday open market in order to offer the goods you have up for sale. With several clicks of the mouse you can easily sell literally everything. The online market for used books is thriving nowadays, you just need to look up the proper platform on which to make your own offer.
You can donate books. It is an easy way to get rid of the excessive amount of books that you have at home, because a great number of charitable organizations. First check out if any thrift shops or headquarters of charitable organizations are present in your area. You can bring the books to them and the people working for the particular foundation are going to take care of them for you. Alternatively, you can check out justgive.com where you will be able to find a charity that is up to your liking and moral beliefs, like the Literacy for Africa program for example, and you can get in touch with the institution you have picked up.