House removals throughout the whole country are on the rise in the past year or so. This is not surprising, since there are a lot of factors involved in the decisions people make to relocate their homes. The socio-economical stagnation is definitely among the most important factor of them all, and the fact that 2014 shows a great increase in the number of people moving from one place to another in search for work and better living conditions can even been classified as a bit worrying.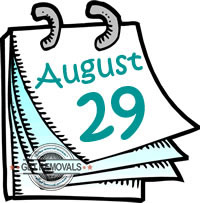 Of all days this year when man and van moving companies had a lot to do, the August 29th proves to be filled with most hassle, vans and trucks that are rushing from one end of the country to another, or in between the districts of the big cities. According to the stats released by the Pickfords' Move Monitor, complied by one of EMMA's 2013 Winner for international moving companies, 30 000 moving projects have been carried out by man and van moving contractors throughout England in just that single day at the end of August.
These stats include only domestic relocation projects and do not count the office removals, as well as smaller tasks like single item removals and furniture delivery. One thing is certain – contractors (just like Get Removals) could not complain about low business these days, which is shown also by the large number of new companies that emerge on local and nation-wide business scenes in the man and van moving industry. Their number increases each year with the number of relocations that need to be taken care of. This is particularly true of London, where thousands of people move homes and offices on a daily basis.
But let us return to the issue at question here – why August 29th has been the busiest moving day in the country this year? A quick look at the statistics of previous years shows that actually is not an anomaly, because the number of removals done in a single day always rises at the end of summer. Bearing in mind the fact that removal companies usually enjoy more business in the last weekend of the month, no matter whether it is summer, spring or winter (the reason why most experts advice that you book your relocation for some other time, in order to make sure everything goes smoothly and you even get a discount because of the "low season") it all becomes very clear.
Many people prefer to use the nice days at the end of August because the weather is still fine, but it is not so hot. Students move to dormitories and rented accommodations away from home etc. There are many reasons why 30 000 people have decided to move exactly at 29th August 2014, but boy, this is still a very impressive number that should not be overlooked. One thing is certain though – there is no sign in sight that soon man and van contractors will suffer of lack of work – which is good news for at least one industry out there.