The need to relocate safely fragile or high value items like antiques, artwork, music instruments, electronic equipment etc. is an important aspect of many home and office removal projects. Such goods need to be protected and handled properly during all stages of the relocation as to prevent damage, which in many cases may be irreversible. If your home or office relocation involves shifting and transportation of such items, it is highly advisable to use professional know-how. Many removal companies in London specialise in safe removal of various fragile or high value items, and will be able to do the job right.
Safe removal of glass/crystal/ceramic/porcelain fragile items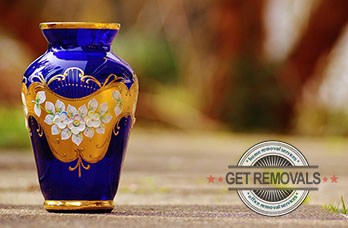 The best way to relocate such breakables will be determined by the size, weight and volume of items themselves.
Small sized items like

vases, glasses, ornaments

etc. are best packed individually using materials like paper, bubble wrap, cloth or a combination of these. Ideally, high value breakables are best transported in a box of their own. If placing items in boxes (after wrapping them) use a box that's about the size of the item itself, as you don't want a valuable vase rolling around in a large box.
Larger items like

glass panes, glass cabinet doors, glass covered artwork, display/showcase boxes

etc. require slightly different approach. Again, it is best to pack and secure each item individually to prevent bumps and grinds during handling and transit. In this case however, rattling and vibrations during transit must be dampened if items are to arrive in tact. This is best done by securing fragile items properly inside the removal vehicle using special straps and other methods.
Safe removal of high value furniture
Furniture can also be of extremely high value and at the same time quite fragile too. Antique pieces, or very delicate one-off chairs, coffee tables etc. are indeed quite delicate and break easily if not handled and transported properly.
If possible certain pieces of furniture can be dismantled for example legs removed off tables prior to removal. Having said this, some pieces of furniture cannot be taken apart, consult with your removal company before attempting to do any of this on your own.
Pack valuable/fragile furniture pieces individually, this will not only prevent damage from bumps and grinds, but also ensure safer placement inside the removal vehicle thus no chance of damage during transit.
Use the right packing and wrapping supplies – safe removal of pricy furniture is serious business and there are many protective materials available. Use the right amount and type of supplies to ensure higher level of protection, or better still let the removal technicians do that for you.
Safe relocation of high value and fragile items is a serious aspect of professional property removals. In light of this, BAR (British Association of Removers) is running specialised courses in packing and removal of fragile and high value objects. The course covers sequencing of procedures, selection of correct protective materials, preparation of work area, handling and transportation of items, as well as various other aspects.