There are many reasons the borough of Richmond upon Thames is considered to be among the chief residential areas in the capital at this moment. Your real estate agent and removal company may talk about good transportation, great open green spaces, community spirit and so on while trying to convince you that the finishing point of your upcoming house removal should be precisely in Richmond. Well, guess what – they are right.
A recent poll conducted by the Communities and Local Government Department turned out some surprising results – residents of Richmond upon Thames are happier than those of neighboring boroughs and than most of the population of London as a whole. When asked, 80 percent of residents of various parts of Richmond stated that they are perfectly happy with their quality of life and the area they currently live in. A part of them were people who have relocated to Richmond from another place, and they have also shared the belief that here they are happier than they had been at their previous place.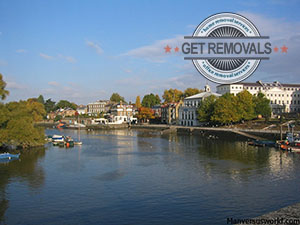 Thus, despite the negative results of the on-going recession on people's overall attitude towards life, Richmond remains the happiest place in the capital. An important thing to say is that the above mentioned recession did not spare in any way the local population. Even though most of the people on the poll admit that life is harder than it used to be several years ago, they still find enough reasons to smile. And the area they live in is chiefly responsible for that.
Now, Richmond comes actually second on the chart. The happiest people on the survey were those living in the City, actually – over 92 % of the asked had only good things to say about their lives. But you will probably agree with us that the City should not be included in such statistics because it has a very limited population – well below 10 000 people. Richmond on the other hand is home to nearly 190 000 people, of which over at least 150 000 are genuinely happy. Now that is what we call a good place to set up a home in.
What are the reasons behind those results? Well, we have already mentioned them a couple of times here. Richmond has a very strong local council, vocal about the needs of local residents, and actually doing a lot in the direction of improving their way of life. What is more, there are very good transport connections to the big commercial and administrative centers of Inner London, where a significant number of local residents have employment. The streets, parks and squares of Richmond are very well maintained, and even the high number of beautiful parks and gardens can be counted as a benefit of the area. After all, everybody loves nature, and nothing cures a bad mood better than a walk among trees and beautiful lakes. Here you can do that in over 100 parks and open spaces, including the famous Richmond Park, Bushy Park and Kew Gardens.