Office relocations are much more complicated than domestic relocations because in most cases they have a very strict deadline and a vast amount of items that much be moved. If you are currently moving your office and you are worried that you won't be able to relocate it in time, don't panic because we have a tutorial that will not only facilitate the entire process but will allow you to complete your relocation with time to spare.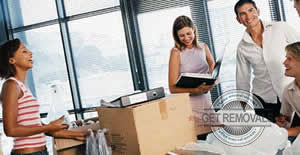 Start by assigning a relocation budge and follow it to the letter. This way you will protect yourself from overspending and you will know in advance exactly how much money you can afford to spend on the relocation.
Continue by scouting down different man and van companies that provide commercial removals. Many business owners opt to conduct their own relocation in order to save some money but end up losing money because in most cases they fail to meet their deadlines and as you know in business time equals money. Once you have scouted the different companies, hire the one that has the best removals-price ratio and hire it. By hiring a removal company you will not only drastically facilitate the entire relocation but you will also have the luxury of knowing that a team of experienced professional is organizing and conducting the project.
Next involve your employees into the relocation by having them pack their own cubicles and offices. To enhance the work rate of your employees have one of your managers supervise the packing process. This way you will have the comfort of knowing that the packing stage of your relocation is being handled by someone you trust and know that will get the job done.
Now you must decide whether you will be taking your current office furnishings with you. If are, notify the man and van company so that it can send a team of movers to come and dissemble the furniture. On the other hand if you aren't taking the furniture with you either sell it or donate it.
During moving day make sure that the parking lots of your former and future offices are empty so that the moving vans can park as close to the buildings as possible. This will not only ease the moving but will accelerate it as well.
Once the relocation is over, organize a party and invite everybody that has worked on the relocation project.