It is only logical that you want to spend your money wisely on a contractor that is the best in the area. When it comes to services related in any way to professional removals Mortlake definitely has nothing better to offer than our company.
We offer reliable and cost-efficient solutions to both domestic and commercial relocation projects. Over the years we have had the opportunity to carry out numerous home and office removals in Mortlake for residents and business owners have had for us – all up to the same highly satisfactory results.
When you hire us you bet you are going to get:
An around the clock customer support thanks to our call center.
Clean vans with safety blankets driven by skillful and experienced drivers.
A huge list of relocation services for you to choose from, that definitely cover all your potential needs.
Competitive prices and many options for a discount, like our mid-week discount
We never fail to deliver precisely the results our clients expect from us.
What is more, our licensed and insured movers would be more than happy to additionally relief you from the stress and strain of your project by taking care of the packing of your personal objects, furniture and other items. We use highly efficient methods and the best packing materials known to the industry. If you entrust us with the job, we will make sure it is finished quickly and hassle free, while the safety of your belongings are completely guaranteed during the transportation project.
Book a removal team in Mortlake now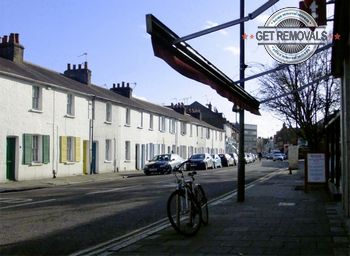 Do not wait for even a second. Call us today on the phone numbers you see listed on this page, or write us an e-mail requesting a free no obligation quote for your project. We have a very flexible removal schedule, so you will be able to book our services for the time that will be most comfortable for you – no matter whether it is after standard business hours, at night or in the weekend – it would be all up to your preferences and needs. We are looking forward to your call.
The Borough of Richmond upon Thames is known to be one of the finest residential areas in present day West London. And the former village of Mortlake is definitely among its most preferred districts at the current moment. It is a suburban development. With many open green spaces and comfortable residential developments Mortlake is a place to consider seriously if you want to have the perfect home in London. Mortlake is probably best known to the wider public with the local Brewery, referred to either as the Mortlake Brewery or the Stag Brewery. The establishment exists at least from the 15th century and even though times were rough lately, the Stag Brewery is still operational and is a source for employment of nearly 200 people from the surrounding areas. Choose a home overlooking the beautiful scene of the river banks and you will never have a single reason to regret it.