If you love art, there is one place of London that would be a shame not to go to. We are naturally talking about the National Gallery. While there are many galleries, museums and smaller venues in the capital that would satisfy your appetite for the fine things in life, none of them can rival the collection of the National Gallery.
So, while your man and van experts are addition the finishing touches of your relocation, or you are looking for a way to de-stress after the whole ordeal, just grab your kids and go there. It is guaranteed you are going to have tons of fun and leave the venue with an enriched life.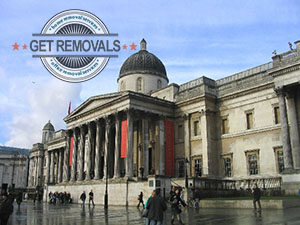 The National Gallery is located at Trafalgar Square, just next to Charing Cross, which means that you can easily access it no matter where in London you are currently. It is opened every day of the week and admission for the permanent collection is one hundred percent free! How can it all be better? You will have to pay for a ticket only if you want to look at some travelling exhibition, but as long as it is hosted here, you can rest assured that the experience will be well worth it.
As with many good things in life, the National Gallery has a long history and continues to develop up to this day. It was founded in 1824. Try to guess how many pieces of art were housed there at that time – just 36! Today the National Gallery is home to well over 2000 works, all of them true masterpieces representing every teaching in European art that you can possibly think of – from early Italian masters through the artists of the Cubism movement to contemporary pieces that are both beautiful and awe-inspiring.
You will have the opportunity to look at some of the most famous paintings in history, including a piece from the iconic sunflower series by Van Gogh, Monet's water lily paintings and so much more.
Naturally, in order to appreciate the collection in the best possible manner, you are going to need quite a bit of knowledge. But have no fear – even if you know little to nothing about art, the free guided tours and audio guides that are offered here will enable you to make the most of your time while you are at the National Gallery.
If you go before 13 September 2015, you will have the chance to look at the specially picked Frames in Focus exhibit. They are the so called Sansovino Frames, popular in Italy in 16th century and named after the Italian sculptor, artist and architect Iacobo Sansovino, and notable for their elaborate decoration that will not leave you unimpressed for sure. Another great exhibition that would be opened at the end of the year will include some of the most famous and beautifully made portraits by Goya, who as you may already know, is the leading Spanish painter of the late 18th century.