London is one of the most diverse, vibrant and beautiful cities in the world. It would be no surprise for us that you are excited for the fact that you are relocating there. The most important thing for every home removal is of course your choice of place where you are going to set up your home in.
London has many fine locations that would be suitable for every taste and nearly every budget. If you do not have a clear idea where in London you are going to purchase a property, you will have to make a thorough research. Naturally, the place where you are going to work would be an important factor to consider when you make your choice, because your home should offer adequate transportation to your workplace. If your office is going to be in North or Central London, your most logical choice is going to be, of course North London. But where in North London exactly? Here are some of the nicest places on the left bank of the Thames:
Here we are talking about one of the liveliest, most vibrant and well established communities in London. Camden is a colourful place with great residential quarters, not to mention the magnificent shopping areas and cultural and educational institutions that you can visit in your spare time. It is a multicultural community and very popular with tourists, which means that you will never be bored if you choose to live in Camden.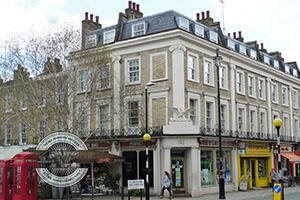 Located on the northern boundary of Westminster, St John's Wood is one of the most affluent districts in London at the present moment. But the money you are going to pay for a house here are definitely going to be worth it. You will enjoy the great community, the general outlook of the area and the fact that you will not have a problem with reaching any point in the capital from here St John's Wood is, among other things, home to such people as Lily Allen, Lucian Freud, Keith Richards, Clarissa Dickson Clarke and many other celebrities and people of high importance.
The name of the district comes from the beautiful park around which the residential area has emerged. Not only the community is great, but there is also a vibrant shopping street and entertainment area in town, with pubs, cafes and bars that you are not going to regret spending a Friday night in. And if you are lucky enough, you will meet Gwyneth Paltrow, Kate Moss, Jude Law or Hugh Laurie, who all live in the area.
Don't think that North London can offer only high end communities though. If you have a more limited budget, but you still want to live in a nice place, plan your removals so that you get a property in Kentish Town. You will definitely find a nice house here and have the chance to enjoy all benefits of living in North London.