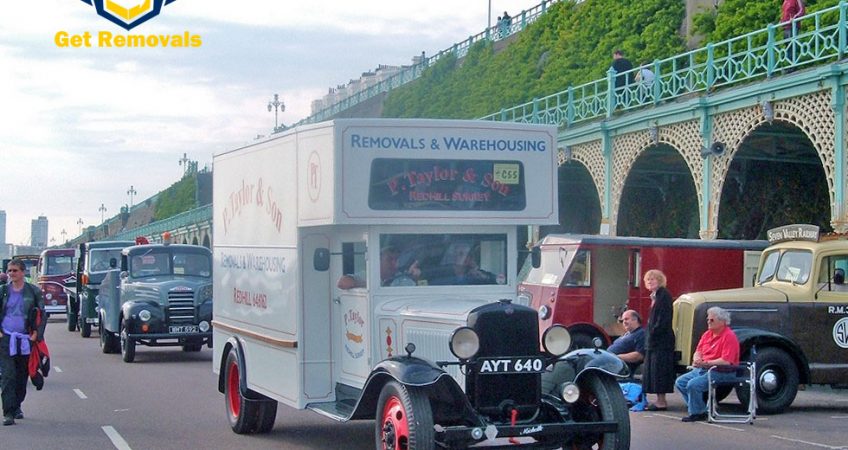 What is a Luton Van
If you have ever tried to hire a professional man and van in London, you probably had to decide on the type of moving van that your skilled mover had to use to transport your items. In most of the cases, you get to choose between short, medium and long wheelbase vehicles or a Luton van. The long wheelbase of the Luton van offers additional stability and space, especially useful for the transportation of building materials and large furniture. The latter seems to stand out of the four, not only with its name but also with its interesting appearance. The boxy-squary shape of its body is rather usual but it:
Offers more loading space;
Has turned into this vehicle's trademark;
Has been preserved over the decades;
Improves payload capacity, ideal for carrying dry freight or voluminous items.
Luton vans also known as Luton box vans or simply Lutons, are something you can commonly see on the roads, especially in the business of logistics and van moving. Their internal dimensions are typically designed to maximize space while keeping the vehicle manageable on urban roads.
Luton Van Dimensions and Design
One of the unique features of a Luton box van is its design, which you can easily recognise on the streets. Luton van dimensions are a key aspect, with the particular van often being around 20 feet in length, providing substantial space for a variety of items. It typically features a large, enclosed box-shaped body that extends over the cab, providing additional storage space. The additional space above the cab is a distinguishing characteristic of the popular Luton vans. This design offers a significant advantage in terms of cargo capacity, allowing you to transport bulkier items that might not fit in standard panel vans.
| Dimension Type | Measurement |
| --- | --- |
| External Length | Approx. 6.7 meters (22 feet) |
| External Width | Approx. 2.0 meters (6.6 feet) |
| External Height | Approx. 3.2 meters (10.5 feet) |
| Internal Length | Approx. 6.1 meters (20 feet) |
| Internal Width | Approx. 2.0 meters (6.6 feet) |
| Internal Height | Approx. 2.4 meters (7.9 feet) |
| Load Space Above Cab | Approx. 0.9 meters (3 feet) in height |
| Rear Door Height | Approx. 2.1 meters (6.9 feet) |
| Rear Door Width | Approx. 1.8 meters (5.9 feet) |
Tail Lift for Easy Loading and Unloading
Most Luton vans come equipped with a tail lift, a hydraulic platform at the rear of the vehicle. This tail lift is not just a convenience; it is essential for reducing heavy lifting during loading and unloading. It can handle how much weight is loaded onto it, typically up to 500 kilograms, streamlining the removals process. This tail lift simplifies the loading and unloading process, especially when dealing with heavy or awkwardly shaped items. It minimizes the need for manual heavy lifting, by also reducing the risk of injury and speeding up the moving or delivery process.
A tail lift is a mechanical device, typically hydraulic or electric, installed at the rear of a vehicle, such as a truck or van. It serves the crucial purpose of simplifying the loading and unloading of goods. With the press of a button or lever, the tail-lift lowers to ground level, allowing for easy and secure movement of heavy or oversized items onto or off the vehicle.
Ford Luton Van and Ford Transit Luton
The Ford company is a well-known manufacturer of Luton vans, with the Ford Transit Luton being one fo the iconic models sold. These Ford Luton vans are among the most popular Luton vans, appreciated for their robustness and versatility. These cargo vehicles (the Ford Luton van) are known for their reliability and sturdiness, and that is the reason they are preferred by both companies and tradesmen.
Luton Van Hire and Standard UK Driving Licence
If you need a Luton box van for a specific project or move, you can typically hire one without the need for a specialized driving licence. When you hire a Luton van, ensure that the vehicle is fully loaded within legal weight limits to safely drive with a standard driving licence. A standard UK driving licence is usually sufficient to drive a Luton van, provided you meet the age and experience requirements.
Versatility and Practicality
Luton vans are versatile and practical for a variety of purposes. Whether you're moving house, transporting large furniture, or making commercial deliveries, a Luton van with tail lift can handle the job efficiently. Their sturdy design also provides protection for your transported items, keeping them safe from potential damage during the actual transportation.
The history of the Luton van with tail lift is quite interesting which is why we are now going to take you on a trip back in time.
The start of it all
The Luton van was originally a product of a British vehicle manufacturer known as Bedford Vehicles. The company was seated in the county of Bedfordshire and thus the name Bedford Vehicles. This UK based maker was producing mainly commercial vehicles such as buses, lorries, vans and even ambulances. In the early 1930s, the company introduced a vehicle that was called the Bedford 2-ton lorry. Namely, it is considered to be the world's first Luton van. This breakthrough established the manufacturer as a significant player in the removals industry. In the years after that, they produced a few more models similar to their 2-ton lorry. Those were widely used by the British military during WWII. They were all characterised by their box-shaped body. The idea behind this unusual design solution was that a vehicle with such a loading compartment will be ideal for the transportation of straw. Why straw? Because, back in those days, the straw hat industry in Bedfordshire was doing so well that there was a need for lorries that were specially designed for the transit of straw. That is also why the Luton van was (and it still continues to be) suitable for the transportation of light but high-volume loads.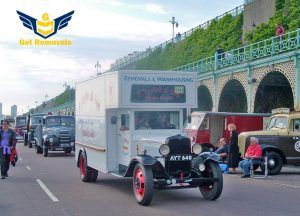 Pictured: The Bedford 2-ton lorry
The name Luton van was used as a nickname for this vehicle by local straw hat producers. It is inspired by the fact that the plant where it was first produced was located in the town of Luton, Bedfordshire.
The Luton van of today
The tail-lift fitted Luton van continues to be widely used even today. However, it is no longer a straw-transporting lorry. Instead, it enjoys an impressive popularity among professional removal companies. In the most basic terms, the iconic van with tail lift continues to have a boxy body. Nevertheless, these days, the vehicle rocks a longer wheelbase and hydraulic tail lifts. The former means that it can easily fit bulky items such as refrigerators, pianos, large beds and etc., while the latter allows for a safer, faster and smoother loading of such large goods.

Luton van vs LWB vehicles
Even though the Luton van with tail lift is quite spacious, it is smaller than long wheelbase vans. Both vehicles are similar in height but LWB trucks are longer and their payload ranges between 1200 – 1500 kg whereas that of a standard Luton van is somewhere between 800 – 1200 kg. That is why it is more suitable for home removals – it can fit all of your possessions and furniture without you having to spend a lot of money to rent it.