We are the only man and van company that you should consider calling when it comes to relocations to the capital of Ireland. We realize that it is a bold claim that you won't find a more suited company for the job but we also realize that we are currently the most praised and sought removal company in London for long distance relocations.
We at Get Removals are always ready to take new and challenging projects because we have the habit of maintaining our moving abilities at their peak and more importantly of improving them on a day to day basis. We are always in shape to take on new removal projects because we are the only moving company in the city that puts its employees throughout mandatory and regular training sessions. During the training sessions our employees don't only maintain their skills but enhance them by studying newer, better and more efficient packing, loading and transporting techniques.
Know that we have the necessary tools and knowledge to handle both domestic and commercial removals to Dublin. Speaking of commercial removals, take into account that we are presently the preferred moving company of the local business owners because we always manage to complete the commercial removals for which we are hired ahead of time. We aim to work in a speedy manner when we are conducting commercial relocations because as business owners we know that a business cannot remain closed for a long period of time.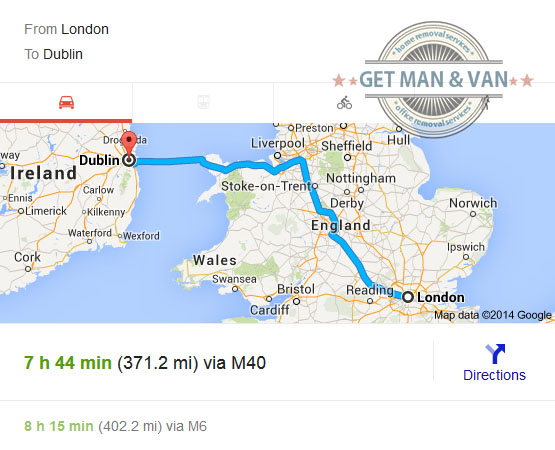 Our transportations services are another aspect of our man and van company that set us above the other moving companies in London that provide long distance removals. Every single one of our moving vehicles is fitted with the latest navigational and safety features such as furniture blankets, straps and belts.
Our fleet of removal vehicles that we use from London to Dublin comprises of:
Moving vans
Lutons
Mid-sized trucks
Semi-trucks and trailer trucks
You can obtain a personalized free quote and see for yourself that we will indeed provide you the finest removal to Dublin by calling our number. Once you go through your quote will be amazed by the immense amount of moving services that you will receive and the highly reasonable price for which you will receive them.
Why people move from London to Dublin, IE
Dublin is the largest city of Ireland and is the capital city of the country. The city is situated in Leinster province on the eastern coast of Ireland in close proximity to the noted Liffey River. The city was founded by the Vikings and become the main city of Ireland after the Norman Invasion of Ireland. The expansion of the city started during the 17th century and for a very short period Dublin become the second largest city in the British Empire. Currently the city has a population of 550,000 people and a density rate of almost 12,000 people per square mile. Dublin is home to some of Ireland's most famous landmarks such as Molly Malone Statue, the Spire of Dublin, Mansion House, the Anna Livia Monument, Mountjob Square and several more. Dublin is also the greenest capital in Europe as 97% of the local inhabitants live in close proximity to a park or open space.