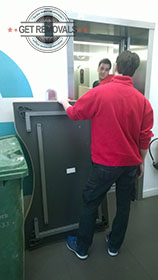 Have you ever wondered why there are different number of people in a team of movers? It is not just to keep each other company, the roles and duties of the members of a removal team are different and only when these individuals work together as one a property removal becomes the swift, professional affair customers expect. Generally, the number of individuals in a professional removal team will depend on the scale, complexity and specific aspects of the project at hand. Some property removals require only one or two men on the job whilst others involve a small army of removal technicians.
Small scale removals
Small scale removal projects can involve anywhere from one to three men teams. The duties and responsibilities of movers in small teams overlap to an extent but they may also vary depending on the specifics of the job. Small scale removals may be:
Removal of single items, including high value belongings;
Removal of contents of one or two rooms only (including studio and one bedroom flats);
Pickup and delivery of certain store purchases (other small delivery requirements too);
Medium scale removals
Generally these are considered to be removal of two or three bedroom homes, small to medium-small offices and shops and other similar properties. Such projects may require the help of three to five people organised in a team. Again, each member might have similar but not necessarily overlapping duties and responsibilities. Removal teams dealing with medium size removal projects might have a designated driver and/or coordinator overseeing what other movers are doing.
Large scale removals
Large scale removals are basically relocation projects which require the quick and safe removal of large number of items. Large scale removals can be either residential or commercial. Usually they require sufficient advanced planning and proper coordination of all stages of the project. Large removals may be carried out by teams of up to ten, twelve or more people.
Basic task allocation in removal teams
The below list of duties reflects the general structure of small, medium and large removal teams, the actual number and duties of team members will vary.
Removal driver – responsible for safe transportation of items from A to B. Also responsible for correct loading and offloading of goods on and off the van/truck. Driver is responsible for weight distribution of load, and avoiding overload of the vehicle. In small removal teams, driver may also act as coordinator and mover.
Coordinator – responsible for overseeing jobs and tasks throughout the removal, they may also be responsible for preliminary viewing, scheduling and organising the work prior to removal day. Coordinators are usually in charge of medium to large size removal teams.
Movers – the movers can be tasked with various duties throughout the project. In a large scale removal projects, movers can be grouped in assembly/disassembly technicians, certain team members may be tasked with packing and securing of items, others may be engaged in lifting, and safe loading and unloading of goods to and from the removal vehicle.