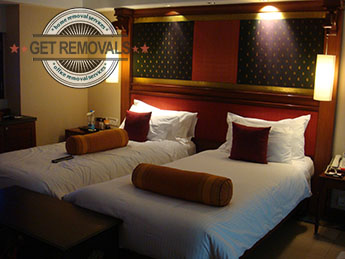 When you are in the middle of a home removal, you might need to stay a night or two at a hotel while your new home is being prepared to meet you. So, why not make an experience out of it and choose to stay at some of the wonderful historical hotels that are to be found in every major city in the country? In this way you will have the great opportunity to create lasting memories for you and your family, and de-stress in the middle of the whole home removal process. We have gathered a list of some of the finest and oldest hotels in London for inspiration. Stepping into these hotels is akin to travelling back in time. While many might be familiar with the likes of The Ritz or The Savoy, there are other gems that have stood the test of time, radiating an aura of luxury combined with the city's storied past.
Claridge's is a five star luxury lodging is a truly remarkable hotel that is located right on the intersection of Brook Street and Davies Street in the district of Mayfair. The hotel was opened in 1854 and has been functioning ever since. In addition to superb rooms and common areas, Claridge's boasts a spectacular restaurant that is said to be stacked with as many as 35 000 bottles of champagne (naturally, of supreme quality). Notable guests over the years have included Empress Eugenie, Peter II of Yugoslavia, actors Cary Grant, Audrey Hepburn and Brad Pitt, Alfred Hitchcock,  and many others.
Brown's Hotel – Opened in 1837, this Mayfair establishment is London's oldest hotel. Nestled in the heart of the city, it has been the chosen lodging house for numerous literary figures, including Agatha Christie and Rudyard Kipling. Its interiors seamlessly blend classic Victorian charm with contemporary elegance.
The Great Northern Hotel was opened in 1855 after a designed by the renowned Victorian architect Lewis Cubitt. We are naturally talking about the boutique hotel near Charing Cross, not the one from Twin Peaks. The very building of the Great Northern is a work of art in its own right and it is said to be one of the most romantic places to stay in London. Consider it if you want to spend a couple of unforgettable nights in the capital together with your special someone.
The Connaught – Another Mayfair gem, The Connaught, traces its origins back to 1815. This hotel exudes an old-world charm, with its Edwardian architecture and timeless interiors. It's known for its discreet luxury and has been a silent observer to countless tales of the city's elite.
Located right on Buckingham Palace Road, the Grosvenor Hotel was opened in 1860. It is located right next to the north side of Victoria Station.  Its design was inspired by the French Renaissance, which clearly shows why this historic hotel is considered to be one of the most interesting buildings in Central London.
The Goring – Opened in 1910, The Goring holds the distinction of being the only hotel to have received a Royal Warrant for hospitality services. Located in Westminster, its proximity to Buckingham Palace makes it a favourite among the royals.
The Cadogan – Located in Knightsbridge, The Cadogan has been serving guests since 1887. The hotel has an intriguing history, with connections to literary figures such as Oscar Wilde and Lillie Langtry. Its Edwardian elegance combined with modern luxury makes it a sought-after lodging for those looking to immerse themselves in London's historic hotels charm.
The Langham has been hosting guests ever since 1865. You can find its location in Marylebone, on Langham Place and faces up Portland Place towards Regent's Park. In addition to having a five-star classification and being considered one of the best historic hotels in the world, the Langham has been featured in a number of notable film productions, including James Bond's story GoldenEye, Michael Winterbottom's film Wonderland and many others. A curious fact is that the hotel was the place where Oscar Wilde, Arthur Conan Doyle and Joseph Marshall Stoddart met in 1889. Stoddart was the editor of Lippincott's Monthly Magazine and commissioned the two authors to write something for the publication. Arthur Conan Doyle submitted The Sign of the Four, while Wilde gave "The Picture of Dorian Grey" for publication. The meeting is commemorated with a plaque at the Langham Hotel, which was unveiled in a special ceremony in 2010.
Other notable mentions in the list that match the definition "historic London hotel" are: St Pancras Renaissance London, Charing Cross Hotel, The Savoy Hotel, Great Western Royal, Midland Grand Hotel.
These age-old hotels not only offer luxurious stays but also provide a glimpse into London's grandeur past. Their walls have witnessed countless tales, from royal banquets to literary soirées. Next time you're in the city, consider a visit to stay at one of these London's oldest hotels, and become a part of their illustrious history.