We're the most affordable Loxford moving service and removal company
Looking for a good quality removal service? One, that doesn't cause damage to your belongings and leaves you with money to spare? If so, then you have come to the right place as Removals Loxford will let you choose from a large number of professional removal services suitable for almost any purpose, budget and occasion! No matter how big or small the job, our qualified removal teams will handle it accordingly. Our service offers to you, are backed up by genuine service expertise and professionalism down to the smallest detail.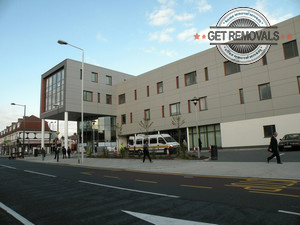 Whether you need to organise a domestic removal, or have to arrange for a comprehensive business removal we are the people you need. The company also deals with more specific and tricky relocations like piano removals, furniture removals, single item removals etc. If you want to get rid of some junk littering the property on your way out, or before you move in, then our efficient and inexpensive rubbish removal services are just what you need.
We are a professional and well-established moving company, but we wouldn't be such if we allowed damage or misplacement to items in our care. Neither of these negatives have place in our moving services, this is evident by the fact that we work with specially trained movers and experienced drivers who will work in perfect sync to have everything wrapped up and ready to go, safely and timely. However, we strongly urge customers to use our affordable packing service for extra peace of mind. Optionally, we can deliver a kit of packing materials to you, so that you self-pack.
Removals Loxford aren't just any removal company, but a dedicated and highly experienced service provider committed to excellent results and cost efficiency. This is why the company:
Provides all private and business customers with

free quotes, customised pricing and great midweek discounts

on all removals;
Owns and maintains a large number of specially equipped removal vehicles of variable size, wheelbase and payload capacity;
Provides adequate technical advice during all stages of the relocation;
Coordinates and double check each stage of every removal with our dedicated call centre;
Maintains attentive round the clock customer support during all days;
Maintains nationwide coverage on all deliveries and does pickups throughout London and all surrounding areas;
Holds full liability insurance and has good short notice availability in the IG1 area;
The moment you see our well-organised removal teams in action, you will realise what a good choice you have made by letting us deal with your removal. On the same note, you will get a chance to check out one of London's multiethnic locales since you will have nothing to worry about concerning the removal. Loxford has a large south Asian community and the area's commerce is influenced by the presence of Indian, Pakistani and other Asian ethnic subgroups. Originally, Loxford was a medieval manor, in possession of Barking Abbey. Later on, during the eighteen hundreds, the area began transforming, with more and more buildings and roads being constructed. In modern days, before the economic downturn of the first decade of the twenty first century, Loxford was benefiting greatly from local investment in amenities and public facilities. Apart from that, the area is somewhat deprived and lacks the wealth of other suburbs of the capital.