To conduct a proper relocation you must plan each step of the removal meticulously. So if you don't have the necessary time or knowledge to plan your relocation play it safe and hire our team to deal with the heavy lifting instead.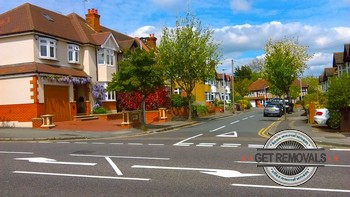 We are a seasoned moving squad that has been in the removal business for the better part of a decade. Throughout the years we have worked on various removals in Woodford and the rest of London, jobs that varied in complexity, time-frame and scope. The only thing that all these projects had in common was that we finished them with flying colors. We guarantee fast and impeccable work, so expect not only to fit into the predetermined time-frame but actually save some time.
Something to note about our services is how pet-friendly our company is. We have tailored our services in such fashion because we know that pets just like humans experience immense amounts of stress when they are moving from their known environment. So by booking our movers you won't only help yourself but your pet as well. Please take note that we can help you find dependable and high quality pet-sitting services if you don't want your pet to present on moving day.
Most prepared removal team working in Woodford, E18
Another aspect of our moving company that make us better than the rest of our local competitors:
We provide a 24/7 client support service
We are licensed to provide in the entire United Kingdom
We are fully insured against loses and damages
We provide waste collection services
We provide furniture removals
We work with a flexible schedule
As you can see we are a moving company that has thought of everything and that takes its profession seriously. So don't waste valuable time into needless scouting and call us today so that we can talk about the details of your removal in Woodford. We promise you that you won't regret hiring our company.
For further information about our company and services we invite you to explore our website in full or to call us during work hours. One of our employees will gladly provide you additional information about us and send you your personalized free quote.
We operate mainly in the suburban town of Woodford because we are based in the area. The area is situated in the northernmost parts of the English capital and is part of the London Borough of Redbridge. The area is divided into three neighborhoods which are known as Woodford Green, South Woodford and Woodford Bridge. Woodford Green just like many more London areas was absorbed by the capital in 1965. Woodford Green is mainly a residential area and is mostly inhabited by the middle class of London. Despite being a residential area, Woodford Green was its own retail area where numerous shops, public houses and galleries are located.