If you are in the market for a professional property removal solution that covers the entire relocation from start to end, and gives you the necessary reliability and cost efficiency, then you have definitely come to the right place as Removals Deptford are the true removal experts in the SE8 postal area. The way we do business is open and straightforward, we don't chitchat, we don't cut corners, we get down to work and do the job.
Top removal options for Deptford customers
If your property relocation is of substantial proportions or it's highly complex, we might suggest conducting a preliminary viewing i.e. surveying of the job in order to come up with the most efficient and swift way to move your belongings from A to B. This will also help us schedule the removal in the most suitable way. Mind you, we have midweek discounts on all removal services.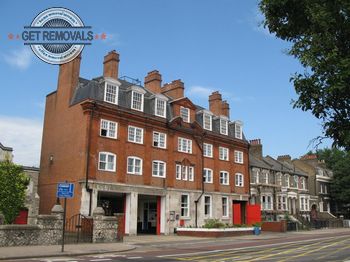 Efficiency and reliability of our property relocation solutions in SE8 comes from the punctuality and professionalism of our teams. Our trained and experienced technicians will arrive to the address on time, fully equipped and ready to tackle the job. The moving teams will take all necessary precautions to prevent damage or loss of valuables during shifting and transportation. We strongly recommend using our specialised packing service, not because we tend to break things but because it gives customers much needed peace of mind. Alternatively customers can do their own packing, in which case we can provide a full kit of packing and wrapping supplies at a very reasonable price.
Deptford is another area of London divided between the boroughs of Greenwich and Lewisham. Deptford had and still has strong maritime connections branching out to navy and merchant shipping. From the 1500s onwards, the area was home to the First Royal Navy Dockyard. Unfortunately the Royal Navy eventually gave up on Deptford Docks which led to some decline in the area. The last operational dock was shut down in the early 2000s.
Waste clearance and other additional services in SE8
No matter how basic or elaborate your removal request we will have you shifted and settled in no time at all. We handle all types of domestic removals, business removals, furniture removals, we move pianos too! Need to get rid of junk before you leave, or before you move in? No worries, we offer efficient waste collection options, including junk and rubbish removals.
Removals Deptford are a professional moving company that knows what makes a good relocation service for our customers. This is why we provide everyone with free of charge, no obligation quotes, flexible pricing and custom tailored service packages. Furthermore, we hold full liability insurance, have sufficient coverage on deliveries and pickups and coordinate all removals through our call centre. Private and business customers have access to twenty four seven customer support.
Transportation of your items will be swift, safe and efficient. The fact that we own and maintain a large number of different cargo vehicles means can haul any item to any destination countrywide.
Don't worry about your removal at all because the most skilled and dedicated movers in the SE8 are on the case. We will have everything wrapped up and ready to go ASAP, in the meantime you can enjoy yourself down Deptford's well stocked commercial and shopping districts. The local high street can offer you services, eateries and other places of interest. Historically, Deptford was home to the first ever Royal Dockyard. This took place from the sixteenth to the end of the nineteenth century. The Deptford dockyards were state of the art and even the emperor of Russia – Peter the Great came to study shipbuilding there.