Relocating your household or office is a serious decision which should be backed up by serious expertise and professionalism in order to make the shift as smooth and efficient as possible. At Removals Clapham you will receive punctual, reliable and affordable removal services that encompass the entire relocation from the prep work stage to follow up assistance and advice.
We are an experienced moving company specialising in all types of residential and commercial property removals. We are able to expertly organise and conduct anything from single item removals to entire property relocations without the usual high costs or margin for error.
Organise any type of removal in the area of Clapham
Professional expertise is just the tip of the iceberg when it comes to property removals. Other essential factors such as manpower, technical capacity and coverage are also crucial to any removal in Clapham. We are well aware of this, and have made sure to cover these aspects as effectively as possible. In light of this, we:
Employ only qualified, professional movers and experienced drivers – this allows for safe handling and no-damage transportation of your belongings;
Maintain a sufficient number of specially equipped cargo vehicles – this translates to swift, efficient and safe transportation of your items from A to B;
Coordinate all removals through our call centre – this means no delays, overlaps or other such setbacks, timely completion of the removal is always a priority;
Affordability is the other make or break aspect of any removal, apart from damage-free transportation. Cost efficiency of our moving services is guaranteed in all instances. In order to provide customers with fair pricing, we:
We provide free of charge, no obligation service quotes – the more information you give us, the more accurate quote we will be able to prepare.
We offer flexible pricing without hidden fees or additional charges – custom pricing will correspond to scale of the removal and the budget requirements presented by customers.
We maintain midweek discounts on all removal services – weekday removals are a good way to save some money and have yourself settled in for the weekend;
We have countrywide coverage on deliveries and do pickups throughout London and surrounding areas;
Around the clock client support via phone and email
Feel free to get in touch with Get Removals so that we can organise your removal in Clapham SW4 in the best way possible. Our friendly and very knowledgeable experts will be in a position to assist you with every step of the process, from tailoring a free no obligation quote to booking the right time and day for your project, to providing you with all details concerning our services.
Clapham was mainly developed in the 17th and 18th centuries, and in the following years (up to know) remained one of the most important parts of Greater London. Today the district is divided into 3 areas. Clapham Common is the area's main open green space and some of the finest residential developments here are namely around it. Clapham South gets its name from the Tube Station, and Clapham North is located on both sides of Clapham Road.
Safest moving services in the SW4 area
Our Clapham removal company has full liability insurance and good short notice availability in the SW4 area. Besides the usual array of domestic removals and business removals, we also handle specialised furniture removals and offer certain waste collection solutions.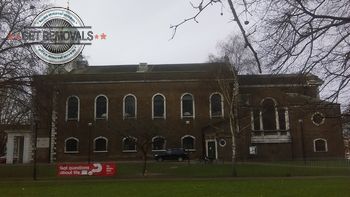 Not having to deal with tedious and time consuming removal chores is great news for you. While our expert movers do the heavy lifting you can be out doing some shopping or sightseeing. Clapham is an interesting part of London in many respects. First of all, it is one of few suburbs to be officially and administratively part of two Boroughs, those of Wandsworth and Lambeth. Another interesting fact is that the local train station currently called Clapham Station, was actually named Battersea Station when first opened. The idea of the architects was to relate the station name to its geographic location. However the name was changed as city planners believed that more people would be willing to travel to and from the station if it had a posh name i.e. Clapham.