Sure, you can handle your own property removal, it's no rocket surgery but can you actually make the relocation efficient, affordable and complete everything within the allocated amount of time? If you don't have all these factors covered, then perhaps you will benefit from using one of the specialised removal solutions, organised and provided by Removals Swiss Cottage!
Handle your removal the right way. Book a team of professional for your Swiss Cottage move
We are a locally based, professional moving company experienced in dealing with all types of basic and specialised property relocations including:
All types of domestic removals;
A multitude of office removals;

Fully comprehensive business removals

;
Specialised furniture removals;
Tricky piano removals;
Efficient rubbish and junk removals;
A special twist in our service list is the specialised packing service we offer. Packing is one of the most important aspects of the prep work that comes with moving places. Many people though find packing to be too tedious and time consuming – a perfect excuse to use our packing service instead, and still keep your belongings safe during handling and transit. If you don't mind doing your own packing, just let us know and we will deliver the necessary packing materials to you at a very reasonable price.
In order to provide customers with a seamless and efficient moving service we work with specially trained mover technicians and professional drivers, organised in punctual and efficient teams. Our guys are highly experienced and able to deal properly with all aspects of the service including those demanding prep work tasks like packing and securing of valuables. Customers will be happy to know we take all necessary measures to ensure safe handling and transportation. To facilitate quick and safe transportation of valuables we operate a fleet of purpose-built removal vehicles. Our vans are clean, well maintained and tracked in real time using GPS.
Swiss Cottage (NW3) is an area of the colourful borough of Camden, London. The area is centred on the junction of Finchley Road (a busy main road) and Avenue Road. The peculiar name of the suburb is in fact derived from an actual Swiss style cottage which is a popular local tavern. The pub was opened in the eighteen hundreds and still entertains patrons to this very day. See it on the corner of Finchley and Avenue Rd.
When it comes to service costs, our customers will be pleasantly surprised as Removals Swiss Cottage offers the most competitive prices in the entire NW3 area. Not only that, but we also give out free of charge, no obligation service quotes. More so, customers will be offered fair, customised pricing that meets specific budget requirements. On top of that, we offer handy midweek discounts on all moving services.
The company wants to provide customers with a better service experience in every respect, this is why we maintain round the clock customer support, have specialised removal coordination, hold full liability insurance, have extra wide coverage on all collections and deliveries, provide valuable removal advisory.
Fully insured and safe removal services for customers in Swiss Cottage
We are a locally based removal company that deals with a variety of relocation services at a professional level. We have the necessary expertise, manpower and technical capacity to organise and complete any moving house project successfully and affordably too. Customers in NW3 will be provided with fair, adequate removal quotes without any hidden fees. Also, our customised pricing schemes will keep moving costs to minimum. There will be no risk of breaking or losing things along the way as we work with specially qualified removal men. We can also arrange for specialised furniture storage either as standalone or as part of the removal.
Clean, safe and reliable moving vans
To our understanding we are the only moving contractors in Swiss Cottage that offer moving van rentals. We have a large fleet new and clean moving vehicles which we rent out at very reasonable prices. We can also provide you a professional driver if you aren't feeling confident enough to drive the van on your own. So, instead of using your personal automobile for the transportation of your belongings, give us a call and we will immediately lend you a hand. You can learn more about our van rentals services by exploring our website or contacting us via telephone or e-mail.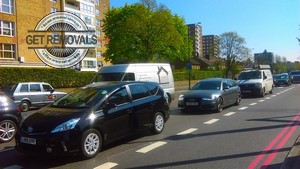 Using our specialised removal solutions will save customers a decent amount of unplanned expenses and a serious dose of unnecessary hassles. While we do the packing and stacking of boxes our customers get a chance to relax and be outside for a few hours. The Swiss Cottage area will provide for an excellent outing. Like many other areas of the capital which bear distinctive names, Swiss Cottage was also named after the local pub. Originally, the public house was known as the Swiss Inn due to its distinctive Alpine architecture. Later on the pub was renamed Swiss Cottage. Geographically Swiss Cottage is known for two things – it shares borders with five conservation areas, and is the proposed site for the tallest building in Camden. Swiss Cottage and Finchley Rd are noted as a district centre of commerce, shopping, services etc. There are many good restaurants serving dishes from all over the world.
Swiss Cottage is an area of London Borough of Camden. The peculiar name of the suburb comes from a nineteenth century pub called The Swiss Tavern. Later on the place was renamed Swiss Cottage thus the suburb's name today. If plans are approved, Swiss Cottage will be home to the highest residential tower in the borough.
The area is linked to the other areas of London by the Swiss Cottage Tube Station which was founded in 1939. It is one of the oldest tube stations in the city and until 1979 served the Bakerloo Line. Today the station serves the Jubilee Line and is used by over seven million people on a yearly basis.