Generally, property removals either big or small, are the source of endless hassles and unnecessary costs for many property owners. Relocations however cannot be cancelled or postponed for a more suitable time in the near or distant future, this is why a professional removal solution will make all the difference when it comes to cost and efficiency of your relocation.
Removals Kentish Town is a professional, highly experienced moving company able to deal effectively with pretty much all types of domestic and business removals, as well as a range of other services including piano and furniture removal. We possess the necessary technical expertise and capacity, and have more than sufficient and skilled manpower at our disposal.
Pro moving experts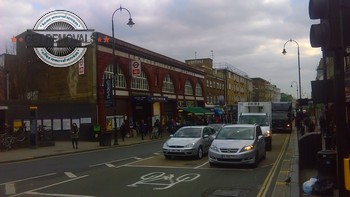 We work with professional movers and experienced drivers all of whom will invest all the skill and effort required into handling all aspects of your relocation with the expected precision and efficiency.
We are able to shift pretty much any item to any destination countrywide as we own a fleet of specially equipped cargo vehicles of different size, wheelbase and payload capacity. More so, our vehicles are clean, fully equipped with tools and materials, fitted with satellite navigation and equipped for lifting and securing of heavy items.
We do item pickups throughout all areas in and around London and have nationwide coverage on all deliveries. Also, we hold full liability insurance and the necessary licensing. We will provide spot-on technical advice during all stages of the relocation.
24/7 customer support
We coordinate each stage of every removal with our dedicated call centre. We maintain punctual and reliable customer support twenty four hours a day, seven days a week.
Our private and business customers will enjoy free of charge, no obligation service quotes, fair and flexible pricing, as well as excellent midweek discounts on all moving services. With us, there will be no hidden fees or unmentioned additional charges.
Removals Kentish Town offer customers professional and affordable packing service to keep items away from damage during handling and transit. Optionally, we can deliver the necessary packing materials to customers so they deal with packing on their own.
Our removals are available to customers in the NW5 area seven days a week, under flexible booking hours. We maintain good short notice availability on small scale service requests.
High quality moving services in Kentish Town NW5
If you are looking for the most trustworthy and reliable professional moving company in NW5, you do not have to look any further. We are the leading specialists in domestic and commercial removals in Kentish Town at present. No matter how big or complex the relocation job you have for us is, we will handle it with the professionalism, efficiency and care that you expect and deserve.
While we deal with the packing and stacking of boxes for you, use the time to explore one of London's cool and lively areas. Kentish Town originated as a village type settlement in close proximity to what was then the city of London. Modernisation and urbanisation of the district took place during the eighteen hundreds. Unfortunately though, the rural charm and much of the original housing stock has now vanished thanks to progress, but such is life. Nevertheless, there are multiple pockets throughout the area where one can catch glimpses of the original style buildings in Kentish Town. The modern day suburb is best known for its clubs, bars and music pubs. Pub rock as a musical style is believed to have originated right here in Kentish Town. A large portion of the local commercial and retail scene is independently owned.
Kentish Town is a Central London district located in the borough of Camden. Its location is definitely NW5's strong suit, because the area benefits greatly from it. In addition to being a comfortable affluent residential district, Kentish Town is also a pretty neat shopping area, with many of its shops centered around Kentish Town Road. The place is also known for playing a prominent role in the development of the so called "pub rock" scene.