If you looking at this website then chances are you're planning a move. Be it a commercial or domestic relocation you undoubtedly need to entrust it in the hands of the very best people you can finds. We promise that if give your project to Get Removals we will execute it in the most professional and satisfactory manner possible. We are sets us apart from our competitors  is both the service quality and the price. The re the only AAA company which provides removals in Enfield, N9, N11 with highly skilled moving teams and yet retains very affordable pricing rates.
We will spare you the headache of organising everything and do it for you and even the smallest detail of the relocation will be taken care of. From packing to safe delivery we are there for you. That's right – we'll even handle packing. Just inform us that you'd like us to take care of it and for a small additional fee our moving team will pack each and every item of yours which is part of the removal in Enfield, N13, N14.
But we do not limit our services to removals in Enfield. On the contrary – we perform removals in all of London and the surrounding areas, do rubbish clearance, furniture collection and so on. The list of services we offer is quite long. Add the flexibility we offer and there is probably no removal job we cannot handle. We even do long distance relocations like removals from London to Manchester and Liverpool. Or if you're heading to Spain or France we can help you out with getting your belongings there fast and safe.
Of course you won't simply be booking a removal team or teams blindly. Each of our customers receives a quote beforehand that he or she must confirm. The quote includes an accurate estimate on the final value of the removal in Enfield, N18, N21 which we base on all the information you provide us with. So the more accurate you are with the project details the more precise the number we give will be. Apart from parking and congestion fees which cannot be calculated beforehand we will not include any hidden fees.
Plan your home move
If you are looking for comprehensive domestic removal services in Enfield, count on us to deliver on the job in the quickest and most efficient way. Our trained experts are seasoned at moving home in the area. They have impeccable skills and access to the latest equipment in the industry, as well as a huge fleet of state of the art vans and trucks suitable for any job. Get in touch for booking and a quote.
Convenient and flexible
Of course, you can count on us for a variety of other services like office removal Enfield covering one, which was tailored specifically to ensure that your work place is going to be relocated in the most suitable manner, without disruption to your company's work process, or inconveniences for your employees and clients. We are very responsible and discreet, and our schedule comes with high availability, so just tells us when and where you need us and we will come.
Custom tailored services
Also, do not hesitate to get in touch if you want help with other tasks, which require specialized removal Enfield services. We have much knowledge in the area, and you can rest assured that a proper solution to all your problems awaits you with us. Call us today in order to have an individual plan for your project tailored by our skillful and well trained experts in the field of removals.
Store your items during the move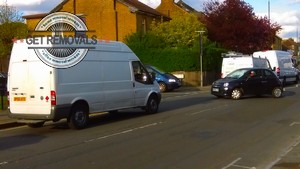 Aside of providing first-rate moving services we also provide high quality storage solutions. In fact you can easily say that we are one of the leading storage companies in Enfield. We have some of the finest storage units in London and the best thing about them is that we rent them out at highly affordable prices. So regardless whether you are looking to hire a domestic, commercial or furniture removal company or a storage contractor, don't wait a minute longer to call us because we are here to help you in any way possible.
If You're Moving in Enfield You Should Know
When the borough of Enfield, EN1, EN2 was created in 1965 it took the name of the town of Enfield, EN3, EN4. We first see that name in historical records in the Domesday Book in 1086 which mentions of Enfelde. The name transformed throughout the ages to Enfield. It's not fully clear what it means but it is likely that the origin is Old English. One hypothesis is the name translates to "where lambs are reared", while other claims that a more accurate translation is "open land of a man called Eana". The modern borough is big both in terms of population and territory – 315 thousand and 31.74 square miles, respectively with average density of nine thousand nine hundred per square mile.
Covenient removals anywhere in Enfield
Enfield is the northernmost of the London boroughs. With a population of well over 300 000 people it is also pretty densely populated. An interesting fact about Enfield is that namely here the first color television in history was invented and put into mass production. King's George Field is the area's best known and most beloved open green space that offers great facilities for sports and recreational activities for residents and visitors of the borough.
We work in the London Borough of Enfield. It is one of the largest and greenest boroughs in the English capital. Forty Hall is Enfield's most renowned and visited landmark. The manor house dates back to the early 17th century and is located in Country Park. The edifice is classified as a Grade I building and described by many as one of the most beautiful manor houses in London.