People cannot put their life on hold in order to organise and deal with their property removal, or at least very few individuals have the option to do so. The sensible and effective way to deal with one such situation is to use specialised assistance. Not just any specialised assistance though, but a professionally organised removal solution provided by Removals Thornton Heath – the local movers of choice.
The only choice for removal services you should make in Thornton Heath
We have more than sufficient industry experience, manpower and technical capacity to organise, carry out and complete successfully any type of domestic removals or business removals, regardless of its scale or complexity. We will expertly handle all aspects of the relocation from start to end, including prep work and follow up, if required.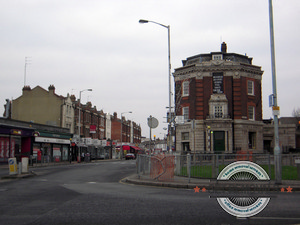 Naturally, we work with qualified, professional removal teams who have the necessary practical skills and service expertise to all aspects concerning the removal project, this also includes packing of items being moved. Our removal teams are made up of specially trained movers, assisted by experienced drivers with many years behind the wheel. Our guys will work in a perfectly coordinated and diligent fashion as to have everything packed, sorted, loaded and ready for transportation.
Business-friendly removal services and special offers in Thornton Heath
Get Removals offers private and business customers in Thornton Heath access to the most efficient and affordable removal services available right now. We specialise in all types of domestic and commercial property relocations as well as a wide range of specialised removal solutions for specific occasions and requirements. We work with qualified, seasoned movers and professional removal drivers who will ensure the safe handling and quick delivery of items from A to B. We provide customised quotes and pricing.
Since efficient and speedy transportation of items in our care from A to B is crucial for our customers, we own and maintain a large number of specialised removal vehicles of variable size, wheelbase and payload capacity. Our vehicles range from compact city vans to long distance transports, which allows for extra flexibility and efficiency on all jobs.
Removals Thornton Heath provides comprehensive removal services that not only cover everything from start to end, but also give customers multiple additional benefits such as:
Fair, individually prepared service quotes and custom tailored pricing that meets specific budget requirements set forth by customers;
Excellent midweek discounts are available all year round on all moving services;
Reliable and helpful customer support

twenty four hours a day, seven days a week

;
Adequate removal advisory provided to customers during all stages of the relocation;
Specialised coordination of all removals through our dedicated call centre;
Full liability insurance coverage;
Countrywide coverage on all deliveries, item pickups done throughout London and surrounding areas;
Additional relocation services we deal with include piano removals, furniture removals, office removals, junk and rubbish removals and more. Delivery of packing materials to customers is also available.
Get to know Thornton Heath
Not having to deal with the nuisance and stress of the removal will be good news for your budget and your schedule as you will have more money in your pocket and more free time to do what you wish. If you have taken care of the more important additional aspects concerning the removal, and want to spend some time around Thornton Heath, start your quick tour by seeing the most notable pieces of architecture in the area. These are the two Grade II listed local churches – St Albans's and St Paul's. Another notable landmark in the area is the Clocktower – a project completed in the year nineteen hundred through public donations. Unfortunately, the third distinctive piece of architecture in the area – The Victorian Baths, did not survive the test of time and were replaced by modern construction about a decade ago.
Now a suburb of South London, Thornton Heath was originally a small, isolated farmhouse. The arrival of the railways in the eighteen sixties brought expansion and urbanisation to the area. After that, Thornton Heath followed a classic curve of urban development, in line with other of London's ribbon suburbs. In terms of architecture, the area features mostly Victorian era residential and commercial buildings. There are also a number of Grade II listed historic structures.