We are a professional moving company that can do wonders for you and your upcoming relocation. We realize that we are speaking big and bold words but we also are more than willing to stand behind our words with our actions.
Our immense experience in the field of relocations has shown us that most people aren't at ease with the fact that strangers will be handling their personal valuables and belongings and this is why we are a fully insured moving company. This way our clients have the peace of mind that they will get partially or fully reimbursed in the case that we damage or lose some their possessions. However please bear in mind that up to now our insurance has only served the purpose of a safety net and comforting tools due to the fact that we have never lost or damaged anything. The reason why we are able to maintain a 0% accident ratio is that we always handle the belongings of our clients with the outmost respect and care and more importantly we always check and double-check everything before we call it a day.
The most convenient removal services that you can book in Hoxton, N1
At the moment we are the only removal company in the area that has the needed resources to provide heavy duty removals in Hoxton. We have invested into the tools that are necessary for such relocations because we want our clients to know and see that we are indeed ready to take on any type of removal project. Under heavy duty removals understand the move of:
Industrial machinery
Specialized office equipment
Oversized and super heavy items
If you are worried that our removal services may be too expensive for you, don't because we don't work with a fixed price list. Instead we base our removal fees on the specs of each removal project for which we are hired. This way we are always able to charge our clients fairly.
Another great aspect of our moving company is our work schedule. It is because of the fact that we work with a flexible schedule that to date we have never decline relocation services to a client. So if you have just learned that you must leave your home or office in the upcoming days, have no worries because we won't deny you help with your time sensitive Hoxton removal.
Stress-free storage solutions
In order to have the best removal in Hoxton N1 experience, all you need to do is pick up the phone and make a reservation with Get Removals. In addition to simply hauling your boxes on a van and drive away, you can count on us to arrange for a storage service at a competitive price to be delivered to you. Our facilities are easily accessed from the N1 area and there is no minimum contract period attached to the deal we are offering to you.
One of the main reasons Hoxton is among the finest places that a person can live in Greater London is that the area is actually located quite near all the key locations in the capital's centre. It is just 2.7 miles to the north-east of Charing Cross, which in terms of modern-day London is nothing. An interesting fact about the area is that the original Fifteen restaurant was opened by Jamie Oliver was opened here in 2002.
Furniture collection and delivery
Your office or house moving project will be carried out by a team of knowledgeable and highly skilled removalists. Our moving technicians are equipped with the finest removal tools, so that they can more quickly and efficiently pack and load any quantity of items. Our furniture movers are highly experienced professionals who can quickly disassemble and reassemble any type of furnishing. So, rest assured that your office or house move will be handled by extremely competent removalist.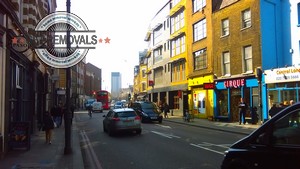 We are based in the London district of Hoxton. The district lies in the East End of London and is part of the London Borough of Hackney. Hoxton boundaries are formed by Regent's Canal from the north, Wharf Road and City Road from the west, Old Street from the south and Kingsland Road from the east. Hoxton Hall and Hoxton Square are arguably the most renowned and visited landmarks of the area. The main feature of Hoxton Square is the White Cube Gallery which is one of London's most prolific galleries. The district is served by the Hoxton Railway Station which serves the East London Line. The station is one of London's newest stations as it was opened in 2010.
We operate in the London area of Hoxton, N1. It is one of the capital's most desirable residential areas and is mostly inhabited by London middle class. Charing Cross, the city's main junction is situated at about three miles from the area. The district is home to any famous or prominent landmarks which explain why it is often district as a quiet and clam area. Hoxton is linked to the remainder of the city via a railway station and numerous bus routes.
Moving in or Out of Hoxton N1? Give Us a Call
For anyone moving to Hoxton N1 or leaving the area to live elsewhere, Get Removals are your go-to guys for all your removals needs. Why choose our removals services over anyone else? Because we're:
100% insured
Have been in business for more than three decades
Offer a nationwide service
Reliable, respectful, and professional
Get in touch to enquire about our affordable removals prices.
Hoxton – An Up and Coming Area to Live
If you're looking for a cool place to live, consider Hoxton N1. It boasts a vibrant local community, a good selection of bars, restaurants, and indie galleries. Transport connections with the rest of the capital are excellent.