Best removal team working in Shadwell
Entrusting your property relocation to a professional moving company like Removals Shadwell is perhaps the best thing you could ever do in order to make the project as swift, manageable and affordable as possible. Joining efforts with such an experienced service provider such as ourselves will translate to a large number of advantages and benefits coming your way. It is not possible to list all the upsides of using specialised removal services as opposed to dealing with the removal on your own, but nevertheless here are some of the key advantages you might like to know:
Precision, efficiency– we will conduct and complete the removal in the safest, most efficient and manageable way, that's our promise to you;
Affordability and cost efficiency – we will keep our prices within moderation, we will provide free quotes, custom pricing and excellent midweek discounts on all moving services;
No risk of damage or misplacement – we work with specially trained movers and experienced drivers who will ensure safe handling and damage-free transportation;
Versatility and wide coverage – our removals are suitable for almost any purpose, budget and occasion, we deal with the entire removal process from start to end;
Large choice and flexibility – we deal effectively with domestic removals, office removals, business removals, piano and furniture removals, junk and rubbish removals etc.
Protection of items in our care – we provide an efficient and affordable packing service, alternatively we can delivery packing materials to customers;
Safe and speedy transportation of your belongings – we own a fleet of specially equipped, well maintained removal vehicles of different size, wheelbase and payload capacity;
Punctuality and reliability – we coordinate all removals through our call centre, we provide valuable removal advice, have

full liability insurance

, and maintain round the clock customer support during all days.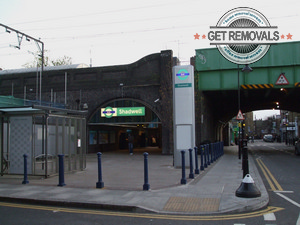 Expert moving services in Shadwell E1
We are the packers and movers in E1 that are going to do the job right. Home and office removals in Shadwell are no longer stressful and strenuous, because we have the packing supplies, loading equipment and removal vehicles to handle even the most complex jobs in a timely fashion and without compromising the safety of the goods we have been entrusted with. All you have to do is pick up the phone and make a reservation. Our experts will handle the rest.
Since Removals Shadwell will handle the entire relocation from start to end (this mind you, also includes prep work and follow up) you will have more free time and energy to explore Shadwell, perhaps the rest of the East End too. Shadwell's name can possibly have come from two origins. Either the area was named after a local spring, dedicated to St Chad, or from the Anglo-Saxon word for a shallow creek which resembles pronunciation of the name. The first developer and entrepreneur in the area was Thomas Neale – he bought land and build mills and waterworks. This propelled Shadwell into industry and commerce – the area's well developed waterfront made it maritime district, housing a large number of businssses and industries serving ships, sea merchants, ship repair and building etc. One of the local chapels – St Paul's, has seventy five decorated sea captains resting in eternal peace, buried in its graveyard which shows the strong maritime links and tradition of Shadwell. Actually, the great Captain James Cook had his son baptised at St Paul's chapel. Modern day Shadwell is dominated by the former enclosed dock – Shadwell Basin. The dock's construction destroyed much of the earlier surroundings in Shadwell, though at the time the area was degenerating and turning into a slum, so the dock construction was not such a bad idea after all.
Shadwell is located in some of the best parts of East London, right on the bank of the Thames in the borough of Tower Hamlets. The current population of Shadwell is a little over 11 000 people. Some of the districts most famous residents from the past include names such as Norman Giller, the noted sports historian, photographer Frederick Albert Bridge and Jane Randolph Jefferson, Thomas Jefferson's mother.