If you are looking to make your property removal as swift and inexpensive as possible, then your best bet would be to use a professional removal service organised and provided the best company doing removals in Morden. So, what do we do better than the rest that will make you choose our moving services over others? Simple, we approach each job with the due punctuality, precision and attention to detail. Furthermore, we invest all the skill and expertise we have on all removals, no matter how basic or complex they are. Last but least, we don't cut corners and we don't deviate from the agreed service format in any way or form.
Well-equipped pro movers for hire
The company has the necessary technical capacity and sufficient manpower to deal with domestic removals, business removals, branch and office removals, piano removals and furniture removals, junk removals and whole bunch more. Custom tailored service packages can also be arranged for in order to cover specific needs and budget requirements.
Our private and business customers will enjoy affordable, cost effective removal services. In light of this, we will provide everyone with individually prepared, free service quotes and flexible pricing, unburned by hidden fees or unmentioned additional charges. One the same note, we apply handy midweek discounts on all removals.
Best removal solution for your Morden move
Convenience and reliability are essential aspects of our moving services, this is why the company maintains nationwide coverage on all deliveries and does collections throughout London and all surrounding areas. Plus, we have punctual and attentive round the clock customer support, available seven days a week.
Removals Morden work with specially trained movers and experienced drivers in order to cancel out the risk of damage and margin for error. Our removal teams will also handle the packing of your items with professional pace and efficiency. If customers wish to self-pack, which is fine with us, we can supply a full kit of industry grade packing materials needed for the task.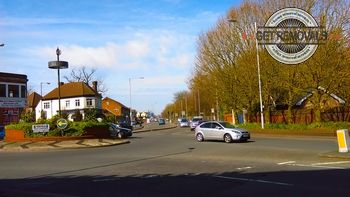 Transportation of items in our care will take place in clean, well-maintained removal vehicles which are fitted with hoists and latching for lifting and securing of heavy or odd objects, and equipped with satellite navigation systems.
We have full liability insurance and will provide spot-on removal advice during all stages of the relocation. We also coordinate all removals through our dedicated call centre thus avoiding any overlaps and delays.
Safe, professionally tailored antique removals in Morden
We are ready to handle even the most complex and demanding removal job in SM4 Morden for you. Over the years for example we have done many antique relocations throughout Morden for private collectors, galleries and museums. We use specialized equipment and tested methods to do our job, so that it is a hundred percent certain the project at hand is done safely and without problems of any kind. Full insurance comes with the service.
Not having to deal with nuisance chores like packing and stacking boxes as we got that covered, means you are free to do what you wish, perhaps even explore some of Morden's ancient history. The area has been inhabited since pre-Christian times, by Celtic tribes. First actual building in the area began with the arrival of the Romans, and the construction of an ancient Roman road, now Stane St. Early written accounts indicate that the first Saxon church was built right here in Morden, fifty years later the parish is mentioned in the Doomsday Book of ten eighty six. At the time though, there were only fourteen people living in the area. The name Morden is believed to come from Old English and translates to the town on the moor.
Despite the rapid urban expansion of London in recent decades, there are still traces of the rural character of Morden to be seen in the area. This is particularly notable in Morden Park, where a number of large period buildings are still surviving. The area is home to Bait'ul Futuh Mosque, the largest mosque in Western Europe, and Morden Hall Park, a key feature of the SM4 district.