South Hackney's most skilled removal team
If you are looking for an effective property removal solution that is worth your time and money, and doesn't leave any loose ends, then the selection of removal services provided by Removals South Hackney is just what you need. From basic domestic removals, to comprehensive business removals and all in between, you can rely on us to handle your relocation with the due precision, efficiency and punctuality.
What makes our professional moving services even better is their cost efficiency and affordability. No matter how basic or elaborate your property removal, you will not have to pay astronomical costs. Furthermore, we will supply all customers with free of charge, no obligation service quotes, as well as fair and flexible pricing that corresponds to the actual specs of the job. Customers will be glad to know that our quotes and prices contain no hidden fees or unmentioned charges.
In case you worry about damage or misplacement of your items while in our care, don't. There is no reason for concern as we employ the most dedicated and skilled movers around. They have the necessary expertise to handle all aspects concerning your removal with professional pace and efficiency. The same goes for transportation of your belongings from A to B – everything will be transported safely, and delivered timely and intact. We work with experienced drivers who are behind the wheel of specially equipped removal vehicles. The vehicles we operate range from compact city vans to heavy duty intercity transport vans.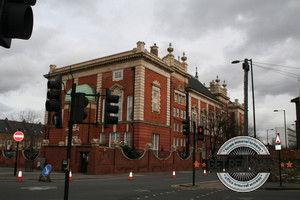 Our service expertise spans over all types of domestic removals and office removals, we also deal effectively with full scale business removals. Tricky and complex tasks like piano and furniture removals are also within our scope of expertise. Specialised rubbish and junk removals are available too. We also offer a professional packing service at very reasonable prices, if customers wish to self-pack, we will be able to deliver the necessary packing materials to them.
Removals South Hackney want to provide customers with genuinely good moving services in all instances. In light of this, the company maintains round the clock customer support, seven days a week. We also coordinate all removals through our call centre and provide valuable removal advisory. We offer excellent midweek discounts on all removals and maintain nationwide coverage on all deliveries.
Having us deal with your property relocation, means fewer hassles and more time and energy to deal with other aspects of the project, or you can simply take a few hours off and explore South Hackney. If you rather just spend some time outside and relax for a bit, then head to Victoria Park, also known as Vicky Park or the People's Park. The park offers access to a number of cafes where you can grab a cuppa. South Hackney came to existence after merging of two separate settlements, this took place during Tudor times. There have been only two moated manor houses in the area, one of these belonged to the Knights Hospitaller since the fourteen hundreds. Though in the seventeenth century, the house was run down and falling apart. Some of the 'tenants' at the time were chimney sweepers. This is commemorated by the name of the local pub – The Two Black Boys