Call and book your removal from the best moving company in East Bedfont, TW14
Usually people plan their property removal well ahead of the actual moving date, in order to avoid delays, rushing, losing or breaking things along the way etc. This is indeed the right way to approach your relocation when you are organising and dealing with everything on your own. What happens though if one doesn't have the time to deal with everything, or the moving date overlaps with a more important engagement and neither can be postponed?
Well, the best way to get out of a tight situation such as the one described above is to use a specialised removal service. Removals Bedfont is the most efficient and affordable moving company in the TW14 area. We know what professional removal services are all about, and we know how to make them worthwhile for our customers.
We work with specially qualified movers – this means we don't require any customer supervision whatsoever. Just provide us with the necessary instructions, or a list of requirements and our expert removal teams will crunch through those with professional pace, precision and efficiency.
Furthermore, customers don't have to worry about a single thing as we will take care of the entire relocation from star to end, without leaving anything to chance or cutting corners along the way. We will have your belongings transported from A to B, safely and timely. Our experienced drivers are behind the wheel of specially equipped, well-maintained cargo vehicles of different size, wheelbase and load capacity. We will have you settled in for the evening news!
The company deals effectively with all types of:
Domestic removals and business removals;
Piano and furniture removals;
Junk and rubbish removals;
We provide customers with a professional packing service, or optionally we deliver packing materials necessary for self-packing, at very reasonable prices.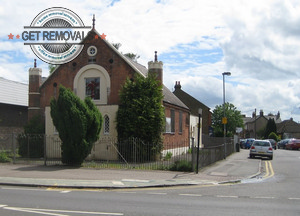 Service costs incurred by customers will be reduced to a minimum. Not only that, but provide everyone with:
Excellent midweek discounts on all removal services;
Free, individually prepared service quotes;

Custom tailored pricing

;
Removals Bedfont has full liability insurance, coordinates all removals through a dedicated call centre, and maintains round the clock customer support, seven days a week. We have wide coverage on all pickups and deliveries.
While we do the heavy lifting for you, catch some sun or just go for a relaxing stroll through East Bedfont's large central conservation area. Having said this, the suburb is in close proximity (merely 3km) to the UK's largest and busiest airport – Heathrow. One thing in East Bedfont that's definitely worth seeing is The Church of England, with its large sculpted topiary works. The church itself is a modest, medieval structure, though the yew trees and the topiary they display are magnificent. Currently, East Bedfont has two surviving manor houses. These are Pates Manor and Fawns Manor. The area has followed the somewhat typical line of development and expansion common to many other suburbs. Expansion and urbanisation came with the arrival of the railways. Extensive housing projects were undertaken and completed after the end of WWII.