Canning Town has never been serviced by a more reliable and responsible team of professional removalists than us.
All our technicians have years of experience in the field of domestic and commercial removals. In addition, they are fully licensed to carry out relocations throughout the whole UK, so no matter where in London or the rest of the country your are moving from/to, we will be glad to lend you a helping hand.
We carry out:
Domestic and commercial removals Canning Town residents and business owners have for us.
Small scale moving projects like furniture, art and personal items delivery.
Packing and unpacking services.
Storage services.
Rubbish removals of the highest quality.
As you can easily see we are not just any other moving company. We know that the best thing you can get is the comfort and peace of mind that your objects are in safe hands while they are being transported. That is why we never make any compromises with the quality of the removals we carry out. Furthermore, we will comply with all your personal preferences and requirements, so that at the end of the day your utmost satisfaction in reached.
For your comfort only we have developed a 24/7 customer support that is coordinated with a call center you can reach at any time of the day and night.
Get in touch today if you want to obtain more information about the moving services and methods that are going to be employed by our technicians in tackling your relcoation. Have a thorough and informative discussion about your needs with a polite and experienced member of our team, and you will see for yourself that we are the right people for you.
Hire movers any day of the week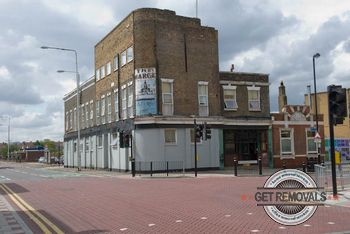 You will be provided with a free no obligation quote and the opportunity to book the most suitable time for you to get us carry out the job. Just call us on the phones provided or send us a message via our easy to use online contact form, which you will find in a separate section of this website.
Canning Town is where the former Royal Victoria Docks have been situated in Newham. Like most of the docklands areas the past several decades have been pretty tough to Canning Town. The good news is that currently there are many major redevelopment projects going on here. The investments are huge. According to the plan some 10 000 new homes are going to be built here in the recent future, and there are 3.7 billion pounds are put to good work into thoroughly transforming Canning Town in every aspect – of course, for the best. Moving in Canning Town might still sound like not such a good idea, but this is primarily due to its bad reputation that is part of the past already. Canning Town is most likely to become one of the best residential areas in London in the near future – it is not a mission impossible in any way.