Usually a little bit of qualified help goes a long way when it comes to property removals Bedford Park based households and businesses can turn to us for good quality relocation solutions minus the hefty price tag. We have years of experience in dealing with all types of residential and commercial removals. From moving a couple of boxes up the road to relocating an entire business to another city – we can do it and do it right.
Leading removal company servicing Bedford Park, W4
Being an experienced moving company, we know what is expected and required of good quality removal services, and we know that focus should be on our customers in all cases. Because of this we:
Work with specially trained movers and experienced van drivers – avoiding damage or misplacement of items in our care is vital;
Provide free service quotes and customised prices – fair and adequate pricing is essential to our business model;
We have midweek discounts on all moving services – a small incentive that will save you a serious amount of money;
Wide coverage on all removals – we deliver nationwide, and do pickups throughout London and all surrounding areas;
All removals coordinated through our call centre – we don't like delays and errors, and neither do our customers;
We provide round the clock customer support – our diligent customer consultants are at your disposal seven days a week,
We have full liability insurance – extra peace of mind is always good;
We will provide customers with adequate technical advice during all stages of the removal;
Nationwide moving service coverage
To date we have never had a transportation related accident. We have managed to maintain a 0% accident ratio by meticulously and diligently loading the belongings of our clients onto our vans or trucks and then securing them with safety straps. We also have the policy to cover all large items with specialised blankets in order to protect their surfaces from unwanted dents, marks and scratches. We also have full goods in transit insurance because we are a Bedford park man and van company which prioritises on safety and don't want to leave anything at chance.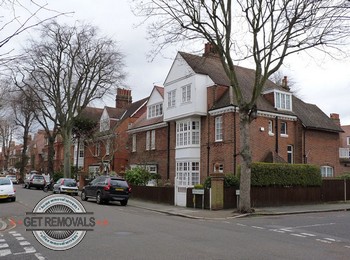 As you already know we operate throughout the London area of Bedford Park. The district lies in the boroughs of Ealing and Hounslow and is identified as the world's first garden suburb which is why it is also one of London's most popular and visited areas by both local and foreign tourists.
Bedford Park was not built in the same cooperative manner as the other garden suburbs of the capital. Bedford Park not only created a model suburb to be replicated all over the developed world, but specialists at the time deemed it 'the most significant suburb built in the western world, for the last hundred years'. Bedford Park has its own conservation area, and most of the early structures in the area are grade listed. All trees in the conservation area are protected by law. One of the best things to come out of the district is the Bedford Park Society – a charity organisation founded in the nineteen sixties by two notable local residents.