If the property removal you got planned is a real tight balancing act, then perhaps you should cancel out the margin for error by using a professional removal service. There are many removal companies out there, but there is only one Removals Tottenham so entrust your property relocation to the best in the industry and enjoy affordable and efficient removals – just the way they should be.
Book the most trained removal specialists working in Tottenham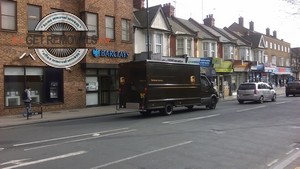 We deal effectively with a large number of general and specific relocation services aimed at both residential and commercial customers. Our expertise spans over all types of domestic removals and office removals, as well as comprehensive business removals, also trickier jobs like piano and furniture removals are no problem. Customers also have access to efficient waste collection solutions including rubbish and junk removals. In addition to these excellent moving services, we also offer our customers budget-friendly packing service for extra protection of their belongings during the removal. Self-packing is also an option, in that case we will deliver a full kit of packing materials at a very good price.
With us there will be no costly delays or any foreseeable setbacks as the entire removal will be conducted by well-organised removal teams made up of specially qualified movers, assisted by experienced drivers. Working with such diligent and knowledgeable professionals ensures the safe handling and damage-free transportation of customers' items. Furthermore, we will coordinate the entire relocation through our dedicated call centre.
Transportation of customer belongings will take place in specialised removal vehicles of the appropriate size and load capacity. Our vans are clean, equipped with satellite navigation systems and fitted for heavy lifting. Flexible and efficient transportation translates to more cost efficiency for our customers.
Removals Tottenham is a well-established and experienced moving company thus our service solutions are customer-friendly in every sense of the word, which also includes affordability. In light of this, all customers receive excellent service advantages and benefits, including but not limited to:
Free quotes, flexible pricing and midweek discounts on all removal services;
Attentive round the clock customer support during all days of the week;
Adequate removal advisory provided throughout the service;
Nationwide coverage on all deliveries and pickups available throughout London;
Full liability insurance coverage;
We'll deal with any type of relocation in Tottenham
Know that to date we have never declined services to anybody. We are always able to lend a hand to our clients because of the fact that we work with a flexible work schedule that always has free slots for new projects. So regardless whether you are facing a full domestic or business removal or a small moving job that may require the usage of piano movers, know that we will be able to help you. After all it is not a fluke that we are reputed as the company that provides the most reliable removals in Tottenham, N17.
Such a comprehensive, bullet-proof removal service can mean only one thing – fewer things to worry about. In turn this allows customers to be out and about, getting to know one of the capital's most famous districts – Tottenham. The area is one of the most colourful and vibrant in London, it has also seen its fair share of rioting, crime and disturbance but that is expected of a district with such a long spanning history and culture. If you don't have the time to check out all the places of interest in Tottenham, then find a few minutes to visit Bruce Castle – now a museum, which used to be Tottenham's manor house. Structure is Grade I listed. The accompanying tower is also a grade listed building. The suburb is divided into four sections – North, Central, South and West Tottenham.
Our company is seated in the famous London area of Tottenham, N15, which lies in the Borough of Haringey in the northern parts of the English capital. At the moment Tottenham has a population of approximately 115.000 people. Charing Cross, London's most important junction is situated at about eight miles from the area.