Since property removals can take unexpected turns, and present people with certain unforseen issues, wouldn't it be better to take the guesswork out of moving places, and conduct the removal in the most efficient and manageable way? Yes, absolutely, and this is where Removals Southfields comes into its own. We are locally based and owned moving company with many years of experience in dealing effectively with all types of residential and commercial property removals. The fact that we are locally based (in the SW18 and SW19 areas) means we are closer to our customers and able to better understand what they expect and require of our professional removal services.
Some of the more popular removal solutions we have in store include inexpensive domestic removals and office removals, comprehensive business removals, specialised piano removals and furniture removals, efficient junk removals and rubbish removals.
Opt for elite removal assistance with us
There is no better way to have your removal done than hiring us for the job. Get Removals is a company with great traditions in the relocation business. We have plenty of knowledge and experience and you will quickly see it. Along with the intangibles you will also witness that we possess top quality technology and we have advanced moving tools. Our skilled workers know how to operate them to perfection. Your Southfields removal is in safe hands.
Plan a removal anywhere in Southfields
Better organised removals, will translate to fewer service costs and more coverage. Our private and business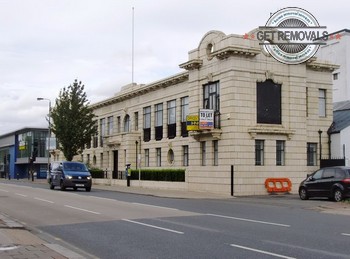 customers will enjoy individually prepared, free of charge service quotes, flexible pricing that meets their budget requirements in full, and of course those highly convenient midweek discounts on all removals. Our quotations and prices are unburdened by any hidden fees or unmentioned additional charges.
The company employs only specially trained movers and experienced drivers as working with qualified professionals allows for safe handling and packing of items, no-damage transportation from A to B, and timely delivery to the intended destination.
Fast A to B local removals
Flexibility and comprehensive coverage go hand in hand with our excellent service prices. We have nationwide coverage on all deliveries, we do collections throughout London and surrounding areas. We offer a specialised packing service or delivery of packing materials to our customers.
Book movers seven days a week
In order to ensure timely completion of the removal in Southfields and avoid any other scheduling issues, we coordinate and double check each stage of every removal with our dedicated call centre, which is also responsible for our punctual and attentive customer support, available twenty four hours a day, seven days a week.
Some of the other benefits of using our moving services include adequate technical advice, swift and efficient transportation in specialised removal vehicles, full liability insurance, punctual work ethics and many more.
Since we will save you the stress and hassle of having to deal with the removal on you own, why not relax for a few hours and get to know the suburb of Southfields. As one gathers, the etymology of the name is rather straight forward and relates to a southern field (part of) of the historic manor of Dunford. There was northern field too, though there is no particular suburb to be associated with it, but only a road named Northfields in Wandsworth Park. During the nineteen century, Southfields was indeed fields, there was no urban development at the time, as this was taking place in the surrounding villages of Wimbledon and Putney. With the arrival of the railways, also came progress and development. The area really took off in the late eighteen hundreds and began its path to becoming a worthy suburb of the capital. Southfields is the home of the first mosque in London.
Southfields is part of the London Borough of Wandsworth as an inner city district and it is situated 5.6 miles of Charing Cross. Southfields used to be just a field but due to its essential location it soon underwent a lot of changes and became an area with some main roads and even a school. Today the city is served by a couple of bus routes. There is also a tube station, part of the London Underground network.