Welcome to our company website. Our fully licensed and insured removal team is here to help with all your moving needs. We have been in the removal business for a very long time so can be certain that we have all the necessary assets and know-how to handle your upcoming relocation in a flawless manner.
One of the main issue we help local clients in Romford is domestic removals. It is like this because we can easily relocate any type of household from A to B. Even more we dare say that we are the only moving company in the area that has the necessary resources to relocate larger homes. Also keep in mind that we aren't afraid of time sensitive removals in Romford. We aren't afraid because we are always ready to work round the clock in order to complete a relocation project with time to spare. So if you are just learned that you must move out in the near future, don't be hesitant to call us because we can help you.
A very convenient option we offer our clients is van renting. Currently we have the largest park of removal vehicles. Our car park comprises of different vehicles such as:
Light commercial vehicles
Moving vans
Lutons
Small and mid-sized trucks
Trailer trucks
Transit trucks
Semi-trucks
Well prepared removal team in Romford
Take note that every single one of our removal vehicles is fitted with the latest navigational and safety features. This way you can easily find any address within the area that you are moving to and more important you can deliver your items in time because you will be able to avoid closed and jammed roads. The safety features will protect the moved items from accidental drops and dumps during transit. Also if you are worried about scratches that may occur during the loading or transportation stages of your relocation don't be because we have fitted the interior walls of our vehicles with protective cushioned pads. Last but not least know that we will happily lend you one of our drivers if you aren't feeling comfortable enough driving fully loaded removal vehicles.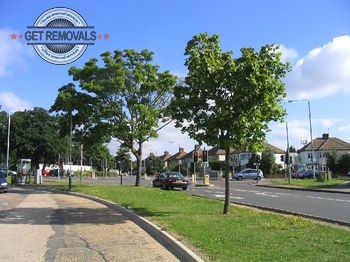 To learn more about our remaining man and van services and the manner in which we conduct the removals in Romford, we invite you to explore our website or to call us.
As you have already guessed we are based in the suburban town of Romford. The town of Romford is situated in the northeastern parts of the English capital and is part of the London Borough of Havering. Romford is the administrative headquarters of the borough and one of London's most important districts. The intersection of Charing Cross is located at about 14 miles from the suburban town of Romford. The town of Romford just like most London areas was absorbed by the English capital in 1965. Before becoming a London area, Romford was a market town in the county of Essex.